Andrew M Evans
Mercantile Rowing Club (VIC)
21st Oct 1940 - 15 Nov 2020
Andrew Evans was an esteemed Vice-President of Mercantile Rowing Club, a fierce competitor and a great fellow. He loved his time at the Club and remained a staunch member of it throughout his life.
He was also a very funny man with a street smart sense of humour which captivated club members.
Whilst his rowing was successful, he is perhaps best known for his contribution to the social life of the Club. Along with his great friend and restauranteur, David Yunghanns, they organised and ran many memorable events for Mercantile, although some members claim to have dim memories of them due the liberal consumption of ales. The advent of drink driving killed many of the excesses and wild times of those Mercantile functions.
In the 1962-63 season, Andrew joined the Committee in what would have been a very lively group including Simon Newcomb, Jeff Wylie, David Yunghanns, David Boykett, Bob Lachal, Mike McKenna, Deane Morgan and Ken Hume. As Bob Lachal said, it was a magic time in the 1960s with the club on fire with characters. The annual report noted in an understated way: Andrew Evans and David Yunghanns have maintained their devotion to provision of refreshments for our social functions.
At home he was the devoted husband of Kay and of his children Bree and Sean. His son Sean described Andrew as a very involved father and grandfather who did not miss a birthday or other event in their lives.
His son Sean maintained the family rowing tradition by stroking the winning Scotch College crew in 1992, a crew which broke the drought of a long string of Scotch losses.
At work, he was a highly entrepreneurial person, running and owning a wide range range of businesses. His last business was Optioneer, a financial services business which he ran with his son Sean. Many of the clients of that business became close friends.
Simon Newcomb tells the story of one of Andrew's early business ventures in the building game. Simon had purchased a country block and asked Andrew if he had any small buildings that he was demolishing which he could install on his newly acquired land. Andrew came up an old tennis pavilion and Simon added: It was fantastic. It had a slate tiled roof with very old ridge tiles. I organised a house removalist, removed this small building up to my block of land and we had many Mercs BBQs at this location.
Simon also recalls Andrew Evans organised BBQs at Jim Sprigg's house in South Yarra being quite wild parties. Other than winning several races with Andrew, David Palfreyman recalls long Sunday barrels with Andrew and David Yunghanns, which often ended up at David's Nutcracker restaurant in Camberwell - very enjoyable affairs.
Andrew and Dave Yunghanns combined again in 1973, this time with Ruedi Hochstrasser and David Palfreyman to build a very solid cool room with temprite facilities for the Club. The annual report records: All members agree that the quenching of the raging Mercantile thirst is now a much more pleasurable task.
After his rowing career ended, he maintained his interest in the Club and was a donor to the Club's Foundation. He was elected Vice-President in 1993.
Andrew was a mighty guy whose great sense of humour, deep and full laughter and genuine interest in the Club will live on in the memories of so many Mercantile members.
Rowing Career
Andrew's son Sean advises that he was a small person whilst young and grew rapidly after he left school. Probably as a result of his small stature, Tony Walker recalls that Andrew rowed at Scotch College but only in the lower crews.
He joined Mercantile in 1958 but did not figure prominently on the water until 1961. In that year, he raced at the Lake Colac regatta in a lightweight eights with some notable members such Jeff Wylie, Tony Walker, Ken Hume and Russell McLean.
His first big win was at Henley that year in a lightweight eight stroked by Paul Harding. He raced also at Mildura and Wentworth Regattas at Easter, winning on the Saturday and failing on the Sunday, a common failing of Mercantile crews after too much enjoyment the night before.
Probably his best season was in 1962, with many lightweight eights victories, despite missing out on the Victorian Championship in a sprint finish by two feet. This was remedied at the first ever National Championships with a big win in the five seat of the Champion Lightweight Eight.
Andrew in the five seat of the winning National Championship lightweight eight
In the 1962-63 season, he had another successful season in lightweight fours and eights with a Victorian Championships in the lightweight eight, again in the five seat.
It appears from the records that Andrew took a season before returning to the fray in the 1964-65 season. Andrew won the Victorian Championship Junior Eight in the seven seat. This appears to have been his last season. But he did manage to race a Head of the Yarra during his rowing career, in one of the early editions of that regatta. Andrew returned for some masters rowing and racing in the 1970s and again in 1990s. He even raced in dragon boats on the Yarra. A few members thought that they could slow the progress of these boats which created too much wash, by winning the Victorian Championship and so discouraging other participants. The Mercantile crew won the championship but the sport continued unabated. The trophy remains in the Club's trophy cabinet.
Andrew's last race and indeed race win was the 1996 Head of the Yarra - Masters D. The crew was stroked by Graeme Boykett and the others were Stephen Gillon, Dave Douglas, Greg Johnston, Warwick Hutchins, Andy Evans, Vic Mulder and Lucky Tony Walker in the bow seat. Tony & Andrew retired after that win in the Masters D. Everyone else continued on for another year and another win in 97. The 96 Head of the Yarra followed victory at Albert Park Lake in the Masters D 8+ at the 1995 Australian Masters Championships.
So ended the rowing career of an efficient, stylish and technical rower.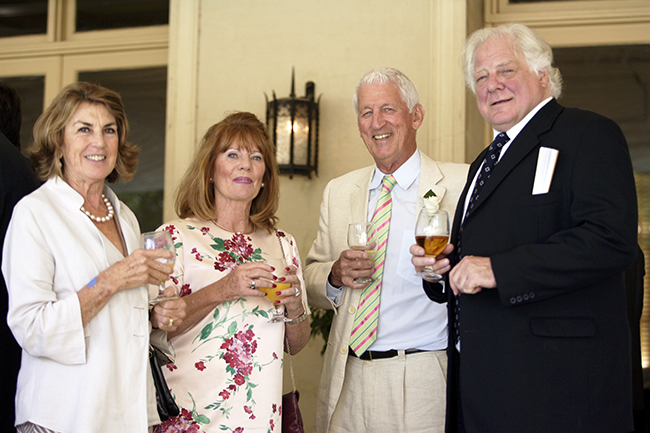 Andrew second from the right with great mate David Yunghanns with their wives
Sources:
Mercantile Annual Reports
Conversations with Sean Evans, Simon Newcomb, Bob Lachal, David Palfreyman, Bill Webster and Tony Walker
Personal recollections
Andrew Guerin
November 2020