Rachel Engel
Mercantile Rowing Club (VIC)
Rachel commenced her rowing at Caulfield Grammar School where she raced in and won the Girl's Head of the River in 2012 and 2013. They were golden years for Caulfield rowing.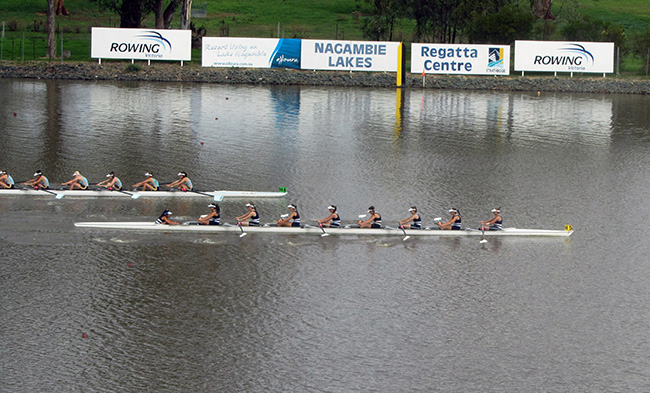 Above: Caulfield crossing the line in 2012
After leaving school, Rachel joined Mercantile and raced very successfully at the 2014 National Championships in a Mercantile Under 21 Pair and Four and Under 23 eight. She won the four and eight. She also raced in the Victorian Youth Eight which finished second.
By August 2014, she was in America studying and rowing at Ohio State University on a student athlete scholarship. Ohio State is regarded as the most outstanding women's varsity program in America and their results demonstrate this achievement. Ohio State won the National Championships (NCAA Championships) team title in 2013-15 (inclusive) and was second in 2016. The NCAA Championships comprises events for two varsity eights and a varsity four. Ohio State is a division one university program.
Above: Mercantile celebrating their 2014 under 23 Eight win – Rachel front left
Rachel's rowing success continued at Ohio State making the Varsity Eight as a freshman and maintaining that position in her second year. Her crew won the Varsity Eight Championship in both her years at the university. Her studies are also going well and she is specialising in communications and technology.
Rowing at Ohio State is very different to rowing at Mercantile. They start their season in small boats until winter sets in. The winter is very cold and their river freezes over for three months of the year. This necessitates training twice a day on ergos to maintain training and build up endurance. After winter, they are put straight into the big boats through to the Championships.
Rachel is enjoying her time at Ohio State and in particular, the program's great team culture. The culture makes it like a family with great support. There is very good co-operation between the academic and athletics departments and the athletes get tutoring and study centre. There are three other Australians currently at Ohio State, Stephanie Williams from Tasmania and Sarah Davis and Emily Caudle from Canberra.
Rachel returned to Australia in June 2016 to gain selection in the Australian Under 23 Eight. Her great record continued and she was duly selected along with fellow Ohio State rower Stephanie Williams.
The future? Whilst it too early to make predictions, Rachel will most likely return to Australia in 2018 which should leave her a good opportunity to trial for the 2020 Olympic team. Let us hope that this eventuates as she is a great talent for Mercantile and Australian rowing.
Andrew Guerin
July 2016