Stewart J Elder
Hawthorn Rowing Club then in about 1937 Albert Park Rowing Club (VIC)
1932 - Interstate Men's Eight Championship three seat - First
1933 - Interstate Men's Eight Championship three seat - Third
1934 - Interstate Men's Eight Championship five seat - did not finish
1935 - Interstate Men's Eight Championship five seat - Fourth
1937 - Interstate Men's Eight Championship seven seat - Fifth
1938 - Interstate Men's Eight Championship seven seat - Fourth
1938 - British Empire Games Men's Four - Gold
The highlight of Stewart Elder's rowing career was his gold medal at the 1938 Empire Games. The selections for the Australian team were very interesting. Ernie Keary from NSW was appointed the sole selector for this Commonwealth Games team. An initial squad of twenty six oarsmen were selected and these rowers represented all States. The selections were finalised following Henley on the Yarra at the end of November. The crews convened at Sydney Rowing Club in Sydney to finalise the preparations. Elder was in the seven seat of a young Victorian crew in 1938 behind fellow Victorian and stroke, Alan Jacobsen.
In a preview of the 1932 Victorian King's Cup crew, the following brief newspaper over view of his career was provided:
S J Elder - Hawthorn. Age 20. Height 6 ft 2 1/2 in. Weight 12.2. Commenced rowing in 1927. he won maiden eight at Warrnambool in 1928; maiden four Barwon 1928; senior eight double Barwon and Ballarat 1932.

Regrettably he died returning from World War II on a troop ship.

The following has been extracted from The Sporting Globe 22nd September 1945.

Oarsmen and officials will regret to learn that S/Sgt. Stuart Elder, Empire Games and King's Cup oarsman, who had been a prisoner-of-war in Germany, has been reported as presumed lost at sea early in September from the Otranto, which reached Freemantle yesterday (21.9.1945). His father, Mr Jim Elder, of 17 Hill Street Hawthorn, has been notified to this effect.
One of Victoria's best and most popular oarsmen, Elder rowed 3 in the Australian four stroked by J. Fisher (NSW) that won at the 1937 Empire Games at Sydney, and was 3 in the Victorian eight stroked by Alex Mcleish that won the King's Cup on the Yarra in 1932.
He also represented the State in the Australian title race at Queensland in 1933, Tasmania in 1934, New South Wales in 1935, South Australia in 1937, and Victoria in 1938.
When he enlisted Elder was Captain of Albert Park Rowing Club, but most of his rowing was done at Hawthorn. He had State title successes with both clubs, and in addition had many regatta victories.
Standing six feet two, and weighing more than twelve stone, Elder was a splendid stamp of athlete.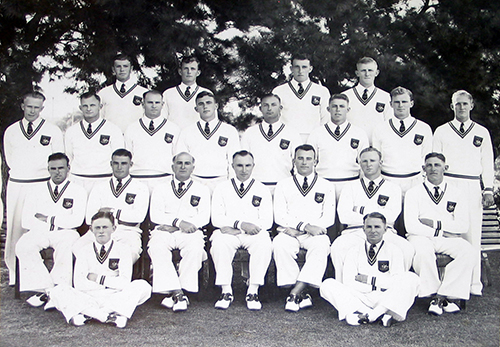 Above: 1938 Australian Rowing Team for the Empire Games
Stewart is back row second from the right
Andrew Guerin 2011 Updated March 2018