Sydney A Edwards
Melbourne Rowing Club amongst many clubs (VIC)
Syd was the eldest of the seven sons of James Edwards, boatbuilder of Princes Bridge Melbourne. He continued in the boatbuilding business even after the death of his father.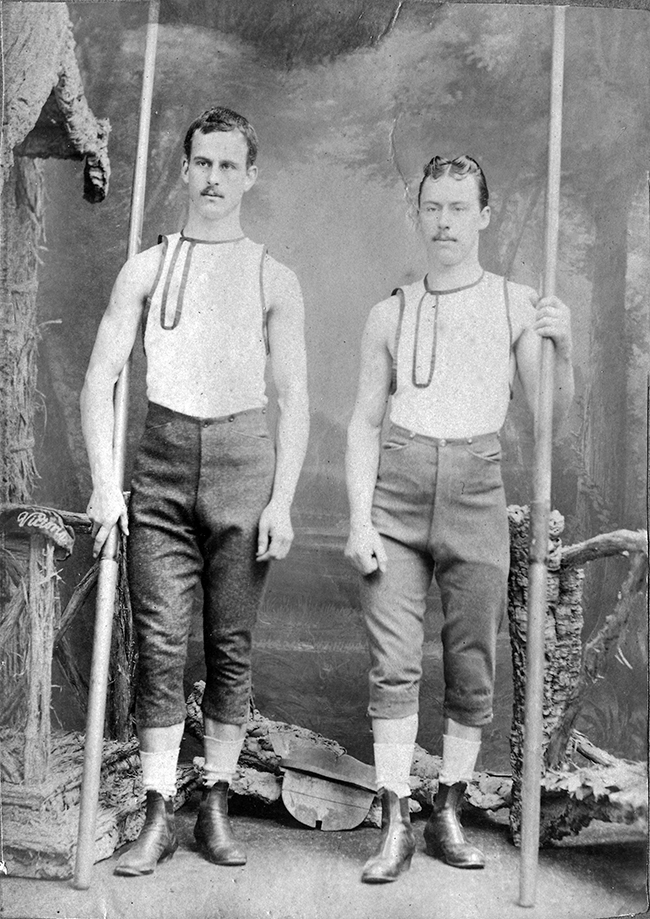 Studio image of Bob Edwards left and Syd Edwards right in their prime
The Edwards brothers
Left to right - Standing: Charles H Edwards, Herbert C Edwards, Frederick J Edwards and Arthur Edwards
Seated: Sydney A Edwards, Robert D Edwards, Frank Edwards
He is perhaps best known for his coaching and the passing onto rowers the principles of the sport. He was famous as a rowing coach, acting as mentor to Victoria, New South Wales, Tasmania, and West Australian crews at various times. This was recognised by John Lang in his 1919 book The Victorian Oarsman in these terms.
No book about Victorian rowing would be complete without mentioning the names of the men who have been chiefly responsible for introducing and keeping up the sound principles of oarsmanship. Few will likely disagree that the names of Mr. Charles Donald, Mr. Sydney A. Edwards, Mr. J. M. Macfarlane, and Mr. George E. Upward stand most prominent in this respect. They are household words in our rowing world in Australia. The generous time devoted by these gentlemen to the success of the sport has made Victoria the premier rowing State of the Commonwealth.
His record of coaching at several clubs would indicate that he supported clubs which supported his business or which needed his assistance.
Before his coaching career, Syd was also a professional sculler, picking up the Victorian Professional Sculling title from Greenland (also a boat builder of Victoria) and Ireland and Sullivan, of New South Wales.
And before that, Syd Edwards steered Scotch College crews to the Head of the River in 1872 and 1873, and held the rudder strings in 1874 when Wesley won its first race, from Scotch. He also steered the Victorian four-oared crew which won the Australian championship in Hobart in 1872.
He was a man of great rowing skill and shared it generously with others.
Known rowing record
1867 - Melbourne Regatta, Youth Gig for Under 18 Years, cox - First
1867 - Melbourne Regatta, Senior Gig, cox - First
1867 - Geelong and Barwon Regatta, Senior Gig, cox - First
1867 - Geelong and Barwon Regatta, Maiden Gig, cox - First
1868 - Melbourne Regatta, Maiden Gig, cox - First
1868 - Melbourne Regatta, Senior Four, cox - First
1868 - Melbourne Regatta, Senior Gig, cox - First
1869 - Melbourne Regatta, Maiden Gig, cox - First
1869 - Geelong and Barwon Regatta, Senior Gig, cox - First
1869 - Ballarat Regatta, Senior Gig, cox - First
1870 - Ballarat Regatta, Senior Gig, cox - First
1870 - Ballarat Regatta, Junior Pair, cox - First
1871 - Melbourne Regatta, Senior Gig, cox - First
1871 - APS Head of the River, Scotch College First crew, cox - Second
1872 - Ballarat Regatta, Senior Gig, cox - First
1872 - Intercolonial Championship Four, cox - Fifth
1872 - APS Head of the River, Scotch College First crew, cox - First
1872 - Ballarat Regatta, Senior Pair, cox - First
1873 - Ballarat Regatta, Senior Gig, cox - First
1873 - Ballarat Regatta, Senior Pair, cox - First
1873 - APS Head of the River, Scotch College First crew, cox - First
1873 - Geelong and Barwon Regatta, Senior Gig, cox - First
1875 - Ballarat Regatta, Maiden Gig, cox - First
Andrew Guerin
January 2023