Robert D Edwards
VIC
The second eldest son of James Edwards, boatbuilder of Princes Bridge Melbourne. He was named after Robert Dean, the boatbuilder to whom his father James Edwards was apprenticed in England. Like his older brother Syd, he also joined the family boatbuilding business.
R W E Wilmot in his article on the Edwards family in The Australasian on 19th November 1938, wrote the following on Bob.
"Bob," the second brother, who died on November 13, was educated at Hawthorn Grammar School, but that was before Professor Irving established the race between Hawthorn Grammar School and Kew High School, a rival to the Head of the River race. When Edward Hanlan, the Canadian sculler, who held the world's championship, visited Australia 50 years ago, he chose Bob Edwards to row with him. At an aquatic carnival on the Albert Park lake, where Hanlan was the chief attraction, Bob Edwards caused a sensation by walking on the water in specially made boots.
Later in the same article, he noted the following of Bob.
In all their activities Bob was the leader. He was a keen supporter of cricket, and football, in all things was the perfect sportsman, and he was the first to go.
Like his older brother Syd, he was also the Victorian Professional Champion sculler defeating C. Messenger, the famous Sydney sculler.
Studio image of Bob, presumably after defeating Messenger for the Victorian Professional Championship
From the Lindblade collection, Mercantile Rowing Club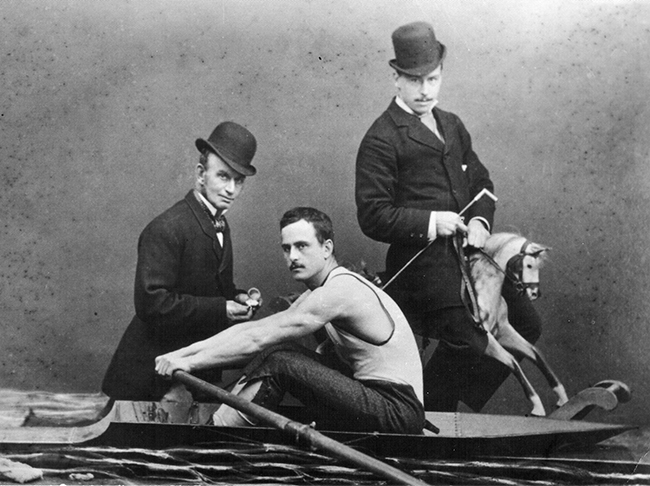 And again, this time with his father James depicted as timing and his brother Syd as coaching on horseback, then the best method of coaching
From the Lindblade collection, Mercantile Rowing Club
Known rowing record
1873 - Melbourne Regatta, Senior Gig, cox - First
1874 - Melbourne Regatta, Junior Four, cox - First
1874 - Melbourne Regatta, Maiden Pair, cox - First
Andrew Guerin
January 2023