Ray Ebert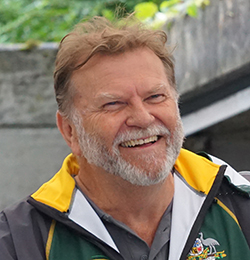 Pine Rivers Rowing Club (QLD)
Ray is a life long member of the sport who has made significant contributions in many diverse areas: rower, coach, sports administrator at club, State and national levels, boat race official, State and national team manager, rowing commentator at State, national and international levels, journalist and master of ceremonies at important rowing events.
His love and devotion to the sport is evident in the quality of his work and the respect that he commands within the sport. He is particularly appreciated for his excellent service to the sport as a long term team manager and commentator.
It is therefore no surprise that he has been elected a life member of his club, Rowing Queensland and of Rowing Australia Ltd. There are very few people who have achieved that level of recognition. After his most recent life membership of Rowing Queensland, he advised that he was "Humbled to join the likes of Dr Steve Hinchy, Jack Pritchard and Bob Alexander."
His contribution to sport goes beyond rowing and is also highly regarded. Amongst many other sporting contributions are 17 years on the Queensland Olympic Council including eight as Vice-President, member of the Queensland Rugby League Anti-Doping Tribunal and 20 Years with Sport and Recreation Queensland, the Queensland Government Department of Sport.
When asked about the highlights, he drew on some interesting situations. He was honoured to do the commentary for the race in which Sir Steve Redgrave won his fifth consecutive Gold Medal in Sydney in the coxless four, even though there was an Australian Crew behind them. "What Steve did will never be repeated!! I said that in the commentary."
He then turned to his team management highlights and referred to two situations. Firstly the London Olympics, seeing "Duncan Free, who I have known since he was about 14 years old, win a Gold Medal in front of his lovely family who I was great friends with over many years." His second team management highlight came at the Rio Olympics - "to be on the Team for 10 Years with Kim Brennan nee Crow and to see her win a Gold Medal in Rio. Have never seen anyone male or female train as hard as she did in 2016."
Ray deflected the question on achievements to referring to the joys of participating in growth of individuals and relating to them meaningfully. He added that "I believe that I am still able to relate to all of the athletes over 12 years and have seen them grow as individuals. For example, caught up with Matt Ryan last week at Wyaralong and he tells me his oldest child is in year 6, he was on two Olympic Teams with me and saw him mature into a fine young man, husband, father and now successful coach."
Ray is one of the great contributors to our sport.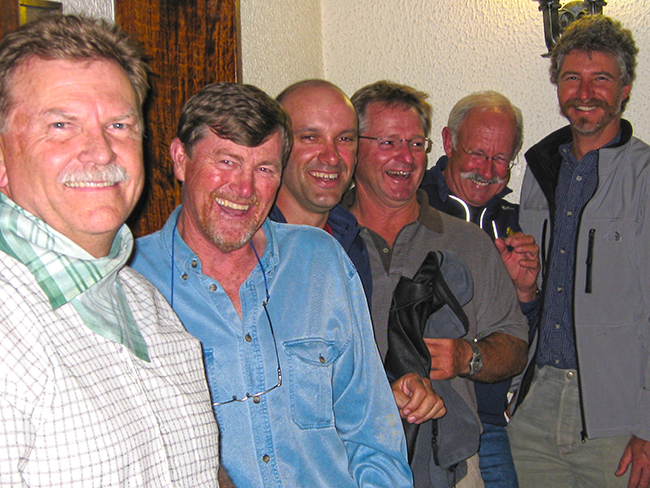 2008 team management and coaches - left to right, Ray Ebert, Nick Garrett, Chris O'Brien, Lyall McCarthy, John Cumper and Rhett Ayliffe
Now some of the details.
1968 - joined Pine Rivers Rowing Club in 1968 at the young age of 14-year-old.
1976 - National Championships, Junior Four two seat - Fifth. Interestingly one of the other great administrators of the sport Chris Noel of Sydney University Boat Club raced in an opposing crew.
1978-1983 - Pine Rivers Rowing Club Secretary and Vice-Captain
1984-1989 - Pine Rivers Rowing Club Captain, a period during which the Club won two Premierships.
1988 - Ray ceased competitive rowing but coached at the Club thereafter whilst rowing masters.
- After retiring from competition in 1988, he became a Boat Race Official for Rowing Queensland which he did for about 10 years.
- Club delegate to Rowing Queensland for a number of years.
1990-1993 - Pine River Rowing Club President
Circa 1993 - Pine Rivers Rowing Club changed the constitution to allow a Boat to be named after Ray which until then had not been permitted. Also awarded Life Membership of the Club at this time.
Early 1990s - Began his commentary career at Queensland regattas.
1991 - Elected to Rowing Queensland Board
- Manager of Queensland team
1993-current - Australian Championships - head of commentary team including International Regattas held in Australia
1993-94 - Queensland Councillor to Rowing Australia
1994-1998 - Rowing Queensland Executive Officer
1998-2018 - Queensland Department of Sport officer initially working on pre 2000 Olympic and Paralympic Games training initiatives.
2000 - Olympic Games - selected by FISA to be the Australian commentator
2001-2017 - Queensland Olympic Council board member including eight years as senior Vice-President
2005 - World Championships - assistant team manager
2006 - World Championships - joint team manager
2007 - World Championships - joint team manager
2008 - Olympic Games - rowing section manager
2008-11 - Rowing Australia Board Member
2009 - World Championships - Team manager
2010 - World Championships - Team manager
2011 - World Championships - Team manager
2012 - Olympic Games - rowing section manager
2013 - World Championships - Team manager
2014 - World Championships - Team manager
2015 - World Championships - Team Manager
2015-17 - Queensland Councillor to Rowing Australia
2016 - Olympic Games -rowing team leader
2018 - Elected as life member of Rowing Australia
2020 - present - Member of the Qld Rugby League Anti – Doping Tribunal
2021 - Elected as a life member of Rowing Queensland
Ray continues to serve the sport well in his retirement years and the quality of his work is not diminished.
Ray has another whole side to his life, not known to fellow rowers. He is a renown education administrator and leader in the Lutheran Church.
In 2020, he was named in The Educator Magazines Top 75 Australian Educational Leaders Hot List and below is an extract from the article from the Educator Magazine.
Ray Ebert being the first person in a governance position to receive this award, was honoured for his leadership as Living Faith continues to strive in contemporary schooling. Ray Ebert is a well-rounded lifelong learner whose leadership has made Living Faith Lutheran Primary School a go-to place to learn about educational innovation and change management processes, and to witness innovative architectural design. Ebert steered the development of a strategic drive, which as opposed to a strategic plan or strategic intent, is aspirational and dynamic, stirring up dialogue and action to agitate, be disruptive, and inspire innovation. Under Ebert leadership, a new approach to mathematics has been developed, based on the work of Stanford University's Jo Boaler. This includes a magnificently-orchestrated approach to professional learning which includes, amongst other things, all teachers completing a Stanford University course. In the past 12 months, Ebert has also been involved in building plans for a new and innovative junior primary precinct and the installation of an adventure playground, rustic outback playground, and a retreat playground.
So apart from his excellent work for the Living Faith Lutheran Primary School where he been a member of the council for 17 years and Chairman since 2015, he has served in senior leadership positions in his Church, the Church's District Council and the Council of Lutheran Education Queensland all for long periods.
He is a superb leader in his Church.
Andrew Guerin
May 2021