Robert B Duncan OAM
Albert Park South Melbourne Rowing Club (VIC) and later Mercantile Rowing Club (VIC)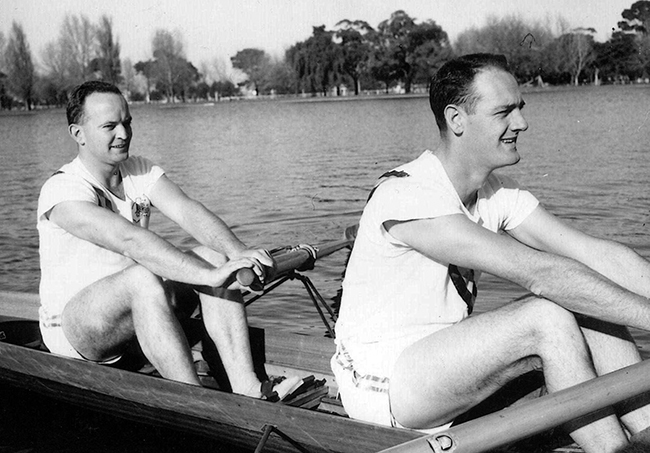 Bob Duncan in the bow seat of his 1956 Olympic pair
Bob was a successful small boat rower in the early 1950s. From 89 starts in small boats, he won 67 of them. He won the first two Interstate Coxed Pair Oared Championships in 1955 and 1956, five successive Victorian Pair Oared Championships 1952-56, 25 successive senior pair oared regatta wins amongst many other achievements.
He was also a very influential and innovative umpire. He retired from umpiring at the 2007 Victorian Championships after 50 years service – an incredible length of service to the sport.
Bob commenced his rowing in 1945 as a cox at Mercantile and Wesley College. He went onto be a successful rower at Albert Park and competed at the 1956 Olympic Games in the coxed pair.
Within one month of finishing his rowing career, Bob started umpiring. His first regatta was assistant starter at the Australia Day regatta in 1957 with six crews abreast. In those days, regatta committees chose their umpires and invitations to umpire quickly followed his first appearance. In 1959 he umpired his first championship.
In 1962, he started the Victorian Head of the River for school eights. He continued this duty for 40 years retiring in 2001.
In 1962 he started his first King's Cup at Ballarat and he started his last in 1996 at the new SIRC course. The difference in the facilities is enormous as is the difference in the cost of establishment - ₤1,600 in 1956 and $40m in 1996.
By the mid 1960s, a Victorian Umpires Panel was formed by Messrs Aitken, Cairnes, Duncan, Donald, Harding and Rodda. The Australian Rowing Council formed their own committee at much the same time with Messrs Aitken, Blundstone, Howson, Rosevear and Fazackerley involved. These committees introduced umpiring standards, education and enhanced rules of racing.
In 1988 he sat his FISA exams and was one of the few who passed. He was the judges box co-ordinator at 1990 World Championships and umpire at 1991 World Championships in Vienna. At this regatta, he undertook every task except starter. This task was reserved for the Europeans.
Bob was an innovator. In 1968 he showed Thomas Keller how Australian umpires started crews on an angle in adverse weather conditions, an innovation to the Europeans. In 1974, he introduced the count down start which was adopted by the AARC.
In 1995, he enjoyed his last World Championships as an umpire at Tampere Finland. Bob took on the FISA establishment and demanded an opportunity to start. Every excuse was used by FISA as to why the Europeans should undertake this duty. He won the day and started not once but twice, including the finals. FISA attitude has changed from that day forward.
He takes great pride in seeing Australian umpires regarded as good or better than any in the world and that we are well represented at all international events.
Bob's suggestions for umpires are:
1.Be wary about disqualifying young crews, particularly for coxing errors - the youngsters will live with the consequences of these decisions.
2. Encourage rowers to become umpires immediately after they cease rowing.
3. Umpires should start their international umpiring career early in life.
4.Umpires must have the temperament and knowledge to be good. He despairs at the poor quality of umpiring when he was rowing.
Bob retired from FISA umpiring at the age of 65 years, National and Head of the River duties at 70 and Victorian duties at 75. This is a pity because he is still a great umpire.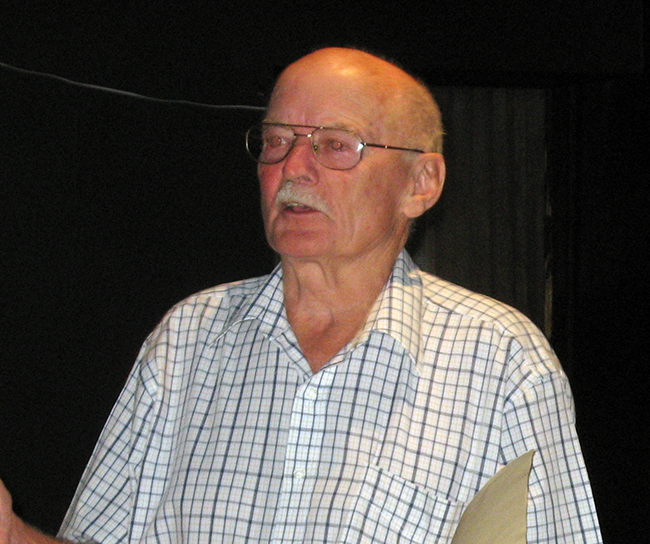 Bob Duncan responding to a toast to him at a dinner in his honour upon his retirement from umpiring
Rowing details
1956 - Olympic Games Men's Coxed Pair bow
1986-87 - Tom Rodda award for outstanding service to the sport
1988 - FISA umpire
2010 - The Bob Duncan award inaugurated by Rowing Victoria to recognise outstanding service to umpiring.
2015 - Author and publisher of the book "Small Boat Rowers of the Fifties"
The details acknowledged in his OAM award were as follows.
Rowing Victoria
• Boat Race Official 1957-2007.
• Official Starter, Associated Public Schools of Victoria Senior Rowing Regatta, 1961-2001.
• Won five successive Coxed Pair Championships, 1952, 1953, 1954, 1955, 1956.
• Member, Victorian Umpires Panel, c1960s.
Rowing Australia
• Umpire, 1957-2007.
• Race Starter, Australian National Rowing Championships and Kings Cup, 1962-1997.
• Australian Representative, Men's Coxed Pair, 1956 Melbourne Olympics.
• Senior Member, Australian Umpires Panel, four years.
World Rowing Federation - Federation Internationale des Socits d'Aviron (FISA)
• FISA Umpire, 1968-1997.
• FISA Umpire, World Rowing Championships, 1991, 1995.
• Starter, World Rowing Championship finals, 1995.
• First Australian Starter, World Championship Regatta.
• Former Umpire, World Championships.
Albert Park South Melbourne Rowing Club
• President, 1957-1962.
• Former Secretary.
• Former Delegate, to the Victorian Rowing Association.
• Rower and Coxswain, 1945-1956.
• Life Member.
Other
• Managing Director, The Berry Currie Group, Victoria, 1948-1985.
• Consultant to various businesses including, Fibre Makers, Selangor Pewter and Camatic, 1986-2000.
• Former President, Toasmasters International, Melbourne Chapter, 1960s.
Publications
• Author, Small Boat Rowers of the Fifties, self-published, 2015.
Awards and Recognition include:
• The Bob Duncan award inaugurated by Rowing Victoria, in honour, 2010.
• Tom Rodda Award for outstanding service to the sport, 1986
Andrew Guerin
2011 (updated January 2023)