Harry R Duncan
Albert Park Rowing Club (VIC)
1897-1972
1914 – Interstate Men's Eight Championship cox - Fourth
1955 – Interstate Men's Coxed Pair Championship coach - First
1956 - Olympic Games - unofficial coach of Men's Coxed Pair
1958 - Interstate Men's Eight Championship selector
Harry was the father of Bob Duncan who rowed in this crew.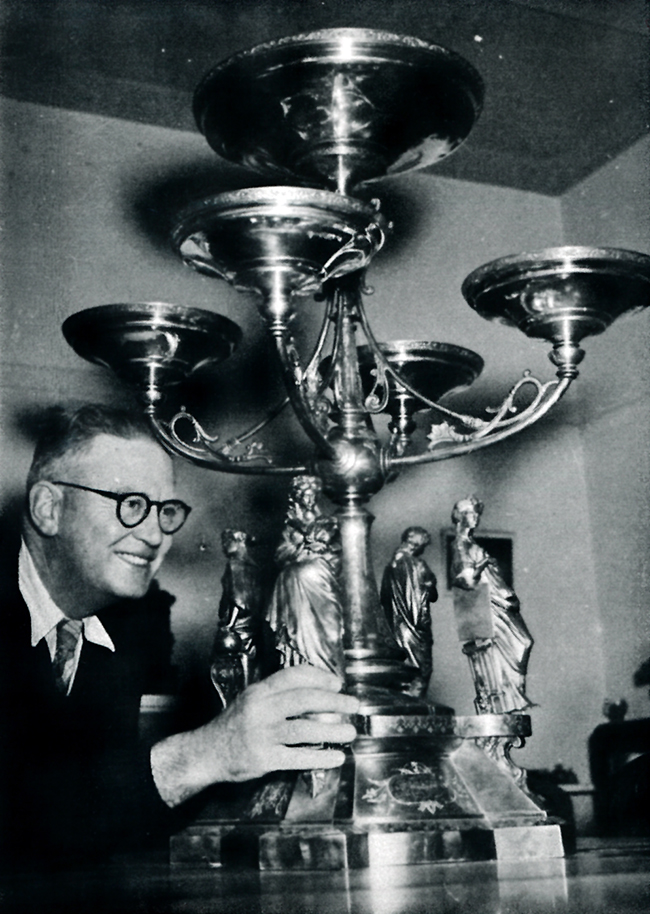 Coach Harry with the 1889 "Briscoe Trophy" he rescued from a pawn shop. Cared by the National Trust for over 50 years, it is now showcased in the foyer of the APSM clubhouse.
Bob wrote the following words on his father as a dedication in his book Small boat rowers of the fifties, self published in 2015.
This book is dedicated to the memory of my father Harry Duncan (1897-1972) who coached the 73 winning crews I enjoyed from 1950 to 1956. He was an Albert Park Rowing Club member since 1907 when at 10 years of age became a coxswain and thereafter "addicted for life" to our sport.
Harry served with distinction in both world wars. Between these two conflicts he was a senior oarsman and then a successful coach. His then highlight was coaching the Park Senior Eight (stroke Alex McLeish) for the 1930 Victorian Championship - winning by a healthy 3½ lengths in the 6 crew race.
He was back at the lake after World War 2 to help re-establish the club after its "wipe-out" by fire in 1945. The grand old shed and complete fleet had been reduced to ashes. In August 1949 I finally responded to his many months of encouragement to come along and "try-out". I'm so glad I finally did!
Harry passed away in 1972 and it was only later our family discovered 72 foolscap pages of his "memoirs". One finger typing detailed his long rowing history and his "never previously mentioned" eventful times at war. Four years of horror followed his WWI enlistment at just 17. Two months at GALLIPOLI and later the victorious lighthorse charge at BEERSHEBIA in Palestine were part of his youth. He was "blown-up" twice but recovered each time after lengthy hospital stays.
Best of all. .. and lucky for me ... he survived. Being a father/coach, his influence on the outcome of my eventful life was profound. I just wish I had known of his "war stuff" before his passing and been able to acknowledge all his lifetime contributions. His recognition was never adequate.
At least he had the satisfaction of knowing the progress of Bruce [Dickson] and Bob [Duncan], from beginners to Olympians, was only because of his skills and commitment over many years. He knew this because we told him so at the conclusion of Melbourne's friendly games.
My family only recently published Harry's memories as a limited edition hard covered book titled "The Life of Harry". A copy is in the archives of the Albert Park/South Melbourne Rowing Club.
Andrew Guerin
May 2020