Francis Duke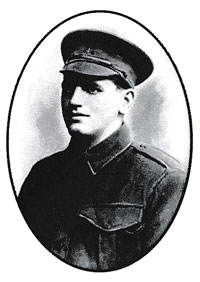 Bairnsdale Rowing Club (VIC)
Pte F. B. Duke 3275
Died of wounds/illness England 2 November 1917 Aged 23 years
Francis Duke was the third child of Robert and Sarah (nee Hoppner) and was born at Buchan in 1895. Duke was a fireman and enlisted on 2 February 1915 while in Brisbane and joined the 59th Battalion. During his time home in 1915 he rowed in the Maiden Eight as it wasn't until 16 December that he left for Plymouth, England arriving in February 1916.
ln April he was admitted to Fovant Hospital with mumps and once recovered marched in to Etaples, France the following month. He was wounded in action, gunshot wounds to the thigh, on 26 September and transferred to England for treatment.
He was also suffering nephritis (kidney failure) and his condition was noted as "dangerous". He died at Norfolk War Hospital on 2 November and four days later at 12 noon, he was accorded a full military funeral at Norwich.
From the East Gippsland Family History Group Inc 2015