Fiona Dickson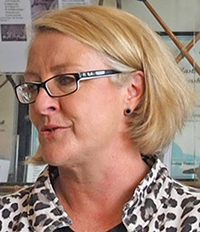 Yarra Yarra Rowing Club (VIC)
Fiona first joined the club in 1987-88 season
Committee 1989/90
Treasurer 1997/98---2007/08
Life member 2005/06
President 2008/09 –2012/13

Fiona stroking a mixed eight in the Head of the Yarra in 1997

Club members provide their unique tribute to Fiona on getting married
Wins recorded:-
1988 Wentworth regatta, novice pair (stroke),
1988 Metropolitan regatta, novice pair (stroke)
1988 Barwon regatta, junior pair (stroke),
1988 Wendouree -Ballarat regatta, novice pair (stroke)
1988 Warrnambool regatta, novice pair (stroke),
1988 Nagambie regatta, intermediate four (3)
1989 Scotch Mercantile regatta, junior four (3)
1989 YWCA championships, junior pair (stroke)
1989 Upper Yarra regatta, intermediate four (3)
1990 Ballarat regatta, composite open four (stroke)
1996 Mildura regatta, intermediate double scull (bow)
1997 Yarra Yarra regatta, intermediate eight (2)
1997 Yarra Yarra regatta, Novice quad scull (2)
1997 Albert Park regatta, novice eight (stroke)
Fiona was also part of the negotiations with Carey for the new shed, and was rewarded with a life membership for her efforts in 2005/06.
This was followed as President of Rowing Victoria, the first female in that position.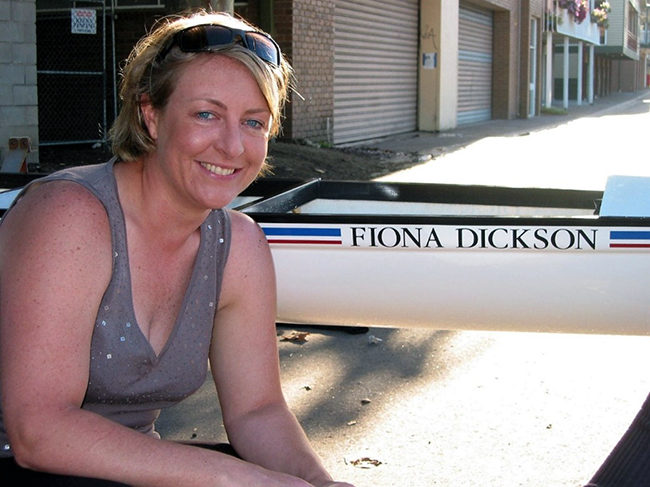 2005 boat naming
"From Yarra Yabbie 2005-2-20
Boat naming ceremony
On Sunday 30th January we welcomed a new tub scull to Yarra Yarra. It has the best looking tub scull we have seen, complete with wing riggers. The boat has been named the 'Fiona Dixon' in honour of the valuable contribution over several years that Fiona has made to the Yarra Yarra Rowing Club.
Fiona has been a member of Yarra for many years and has contributed to the club in many ways.
She rowed for many years in intermediate and senior crews until work and study meant that she had to slow down on rowing. She became treasurer and has kept the club's finances under tight control through some difficult circumstances. Many a committee member will attest to Fiona's determination to spend our membership's money in a correct and useful manner.
She has also been a key player in the negotiations with Carey to rebuild the shed and formalise the lease for the western annexe.
She's also very handy with a paintbrush, being the instigator of the 'paint the shed' weekend which resulted in our shed looking like new (from the front anyway).
We thank Fiona for her contribution and hope she's enjoys seeing her scull winning races.
As part of the boat naming ceremony the development squad organised a BBQ and drinks. Thanks go to Agnes for her efforts in organising a great feed."
"From Yarra Yabbie 2017-8-23
The Dickson-Speed is named after Fiona Dickson.
Fiona has a long history with YYRC holding a number of positions including Club president for many years. Not only was she a fine rower who achieved considerable rowing success she also steered the club through the successful negotiations with Carey to rebuild our new shed and the renewal of our club lease with the City of Melbourne. Both tasks required significant skill, dedication and talent which Fiona displayed during her role as President. Fiona was also responsible for the development of the club's strategic plan and its imputation. She was also the club treasurer for many years. As if this was not enough, Fiona has also held the position of Chair of Rowing Victoria.
Fiona was a very active rower for many years and represented YYRC at the nationals as a lightweight.
Fiona is a life member of Yarra Yarra Rowing Club and I think the first female member to be bestowed that honor.
Club Lore has it that Fiona decided she had time to fit in the HOY before leaving to get married in the afternoon. Legend.
("Speed" is her married name hence the boat name "Dickson-Speed")
Jim Skidmore
November 2023