Capt Harold Dench
Yarra Yarra Rowing Club (VIC)
One of the many leaders of the rowing community killed in action in WWI at Bray France on 23rd August 1918, after having survived most of the war. He was buried the next day near where he fell.
He was wounded in February 1917 and mentioned twice in dispatches in both December 1917 and December 1918 for his conspicuous service.
Harold was a 28 year 10 months old estate agent from Melbourne when he enlisted in the May 1915. Given his win in the Warehousmens' Challenge Cup with Sargood Brothers, he may have worked in Flinders Lane before following his father into the real estate business. His previous voluntary military service in the cadets at Camberwell Grammar and his service in the citizen military forces as a lieutenant were noted in his papers. This experience and his natural leadership led him direct into the rank of sergeant, by January 1916 second lieutenant, full lieutenant in August 1916 and finally Captain in August 1917. All this occurred whilst he suffered chronic bronchitis throughout his time at war.
His leadership and willingness to contribute is evidenced by committee, Vice-Captain and Captain positions.
Member 1907/08 - 1913/14
Captain 1910/11
Committee 1911/12 - 1912/13
Vice-Captain 1913/14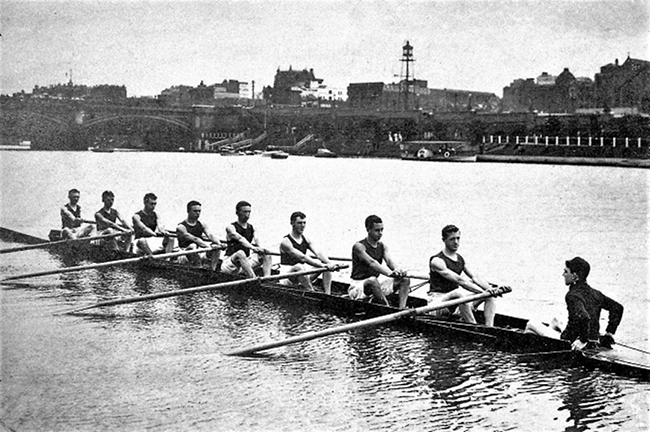 1908 Upper Yarra Regatta, Maiden Eight with Harold in the four seat
Winning crews:-
1908 - Melbourne regatta, special senior four (bow)
1908 - Melbourne Regatta, Maiden four (3)
1908 - Seymour regatta, maiden pair (bow)
1908 - Upper Yarra regatta, maiden eight (4)
1908 - Warehouse challenge cup, Sargood Brothers crew (2)
1909 - Melbourne regatta, special senior four (bow)
1909 - Geelong and Barwon regatta, junior eight (bow)
Harold had a practice eight named after him in 1914
Jim Skidmore and Andrew Guerin
Nov 2023