John S Deam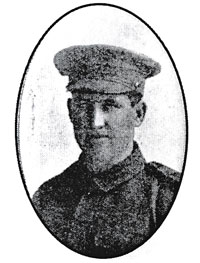 Bairnsdale Rowing Club (VIC)
Pte J.S. Deam 4167
Died of wounds France 15 August 1916 Aged 23 years
John Simester Deam, the son of John and Sarah (nee Kerton), was born in Bairnsdale in 1892. He enlisted on 10 July 1915 and joined the 6th Infantry. He was promoted to the rank of Corporal and arrived in France in April 1916.
In order to be stay with mates on the firing line he relinquished the position and was not long in action before being wounded.
He was a clerk and for the few years immediately before the war had been an active member of the Bairnsdale Rowing Club.
His younger also served and was killed in action in 1918 in France. They were both cousins of William Deam, who was also a member of the rowing club and who also died.
From the East Gippsland Family History Group Inc 2015