Christopher J De Guingand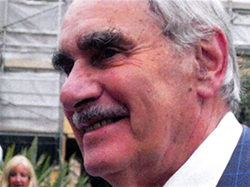 Mercantile Rowing Club and Hawthorn Rowing Club (Vic)
Chris is not a rower who has shot the lights put at the Olympic Games, but rowing has been an equally important part of his life.
As a immigrant from England as a young man, he found in rowing, a sport in which he could excel throughout life and find life long friends.
What is his story?
Born in London in 1933, he was the first son of Norma and Jack De Guingand. His family "owed its comfortable circumstance to the production and sale of men's smoking pipes, produces at the family's factory in Saint-Claude in the Jura district of France." During the war years, Chris grew up in Devon with his mother and siblings and grandparents, well away from the worst of the bombing of London. It did not stop their house being damaged by bombing all the same. After the war, Chris went to Ampleforth as a boarder. It was a school with cricket and rugby traditions, and neither sport suited Chris.
It was a business trip of his father to Australia whilst Chris was at school, that prompted a desire to migrate and make his mark in this young country. Four years later in 1953, Chris boarded a ship to Australia. Chris described himself as a "young man from an English public school who had a sheltered, very British, upbringing and was frankly learning about life on the trot." This he did and with great success.
In Melbourne he joined the Harlequin Rugby Club which trained out of Mercantile Rowing Club. He joined Mercantile in the spring of 1953 and learned to row under the great Norm Cairnes. Chris adds: "Here I was to meet a number of people who would remain friends for the rest of my life, or became significant influences on my future development. .... Rowing gave me the opportunity to do something that had up to that time eluded me - be good at a sport."
He threw himself whole-heartedly into club life and training. He speaks fondly of being taken under the arm of club members at times when families normally get together. Perhaps more importantly, he met his wife Margaret at a club function. Here was a man who embraced the club, and the club embraced him.
Chris has great memories of those years, many of them from the iconic bush regattas of Victoria.
1954 Yarrawonga Regatta Maiden Pair winners - stroke Gael Ansell and bow Chris De Guingand
1958 Mildura and Wentworth Regattas Senior Pair winners - stroke Graeme McCall, bow Chris De Guingand
1954 Mercantile Junior Eight with Chris in the three seat
He also served as the Club's Vice-Captain and Secretary.
His 'Olympic Games' was probably a junior eight which swept all before them in 1954-55 season, winning the Founder's Challenge Cup at Henley-on-Yarra and the Victorian Championship.
The multitude of characters which Mercantile produced made Chris' life interesting and this junior eight was no exception. Stroked by lightweight "Thrasher" Richardson, David Boykett (who became a legend in the sport), Ian Wilson (who became a very public and notable President of Richmond Football Club), future Olympian Graeme McCall ("Flossy" to his friends), Chris' good friend Gael Ansell and Freddie Frederico (who became a judge and coach of the St Kevin's 1st VIII that sons Nick and Paul rowed in), to name just some.
After these eights wins, together with other pair and four wins, Chris won the Captain's Trophy for the oarsman with the most regatta points for the club.
In 1957 he gained his first senior eight win at the VRA regatta in a crew which beat University and Banks after being beaten in the previous week; later in that season he joined Graeme McCall in a senior pair in Mildura where they beat a much-vaunted Sydney crew; and subsequently rowed in the Mercantile crew in the 5 seat which won the Grand Challenge cup at Henley in 1960.
Family life, and a very interesting and successful life in the mining industry throughout the world, beckoned.
Chris was drawn back to the sport through his sons who rowed at St Kevin's College Melbourne and more directly with new found friends at Hawthorn Rowing Club, a club very close to his home. He was again able to enjoy the sport he loved, and in between work travels, race in masters events. He and Margaret greatly enjoyed the company of other important members of the rowing community such as Denis Bourke and David Deeble at his new club.
Chris continues to enjoy all aspects of rowing, albeit more from a distance given his age. Long may this interest continue.
Andrew Guerin
September 2021