Peter De Garis
Mercantile Rowing Club (VIC)
Peter commenced rowing at Brighton Grammar School where was Captain of Boats in 1973. His crew that year finished fourth after a good season.
Peter joined Mercantile in 1975 are rowed with the lightweight squad. After a decade off, he did some rowing with the Albert Park Club in 1985-86 season.
Then there was a big gap until 2000 when he re-joined Mercantile to row masters.
What were his best races as a masters rower? "I love the Head of the Yarra and our win in E Class in record time in 2007 remains a favourite race. The win again in 2014 in F Class at the Head of Yarra was also good."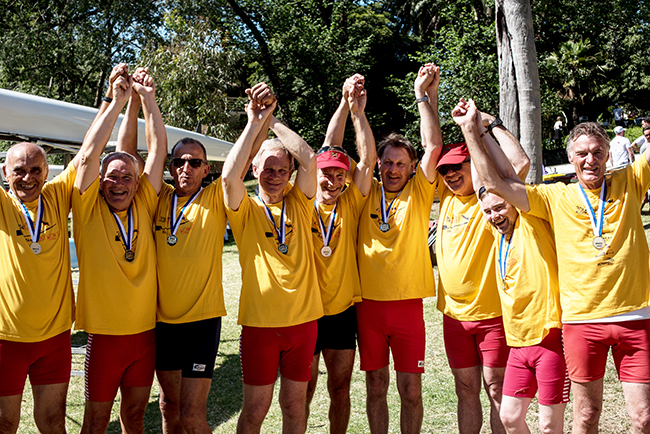 Above: Peter fourth from the right after winning their category at 2014 Head of the Yarra
"My most infuriating race was at the 2002 World Masters regatta where were well placed to do well, one of the oars in our boat popped out in the first 10 strokes."
Why rowing? "Fitness and mateship are the real reasons. It also the best stress management one can get!"
Andrew Guerin October 2015