William Knox D'Arcy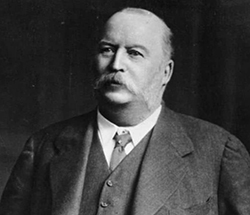 (1849-1917)
D'Arcy was a rower in Rockhampton Queensland and the president of the now defunct Rockhampton Rowing Club.
Whilst not a renown rowing man, historian Prof Geoffrey Blainey described him as one of the most influential men in the Middle East since Mohammed.
Why is this so? He funded the exploration of the oilfields of Persia (now Iran), which was eventually successful. Sadly the costly exploration led him to be under financial pressure. He was forced to sell his concession to Burmah Oil in return for a large share holding in that company. On 26th May 1908, on his old concession, Burmah Oil found the then biggest oilfield in the world. This led to the formation of a new company Anglo-Persian Oil, which ultimately became British Petroleum. D'Arcy was appointed a director of the company and held that position until his death.
Prof Geoffrey Blainey in his book The Shorter History of Australia writes as follows:
A little-known giant in the world's history, William Knox D'Arcy had migrated as a 16 year old from London to the small Queensland river port of Rockhampton where he became a solicitor and president of the local rowing club. After the discovery of a rich gold lode in nearby hills in 1882, he became the major shareholder in Mount Morgan, the first Australian company to pay one million pounds of dividends in the space of a year. With his wife, three daughters and two sons he returned to England where he lived like a shah. For the dining room of his towered mansion, Stanmore Hall in Middlesex, he commissioned Edward Burne-Jones to design the tapestry based on the Legend of the Holy Grail and now displayed in the Glasgow Art Gallery. He entertained in his private grandstand and dining room at Epsom racecourse and usually hired a special train to escort his guests to the Derby. With his round cheerful face, drooping mous­tache and bald head, he and his bejewelled wives - his second wife was also a Queenslander - were fixtures at the London opera and the European spas.
In 1901, using the fortune won from Mount Morgan, he began the costly search for oil in Persia (now Iran). Seven years later, his money almost gone, he found the first oilfield in the Middle East. The long­-term effects of that find on world trade, war and technology were not yet visible. He died in 1917, having made less money from Persian oil than from Queensland gold.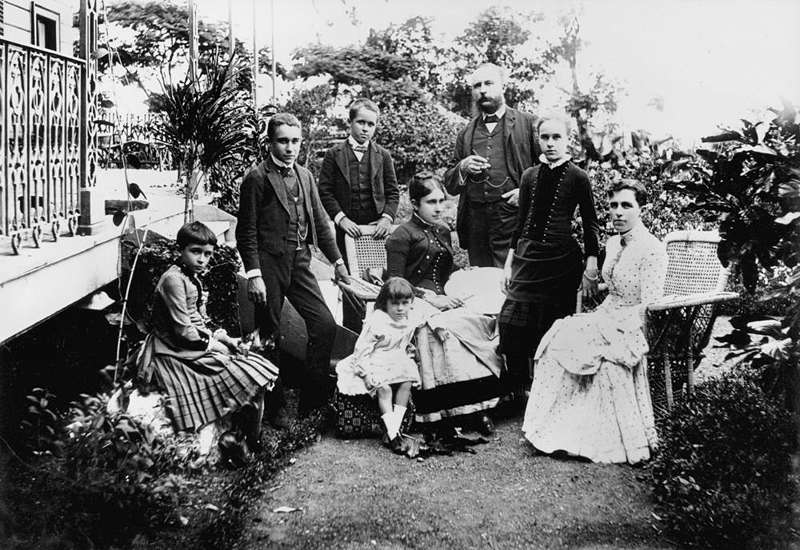 William Knox D'Arcy with his wife Elena (seated, centre) and their children. L-R standing: Frank, Lionel and Elena D'Arcy. Seated Violet and Ethel D'Arcy. Seated on right is the family governess.
Image sourced from Picture Queensland, State Library of Queensland
Andrew Guerin
2021
Sources:
A Shorter History of Australia, by Geoffrey Blainey, William Heinemann Australia, 1994
Australian Dictionary of Biography Volume 8, (MUP), 1981
Image: State Library of Queensland