Frank M Cummings
Frank Mark Cummings
31 March 1891 at Serviceton Victoria – 11 November 1954 at Murray Bridge SA
Murray Bridge Rowing Club (SA)
1922 – Interstate Men's Eight Championship seven seat – First
1923 – Interstate Men's Eight Championship seven seat – First
1924 - Olympic Games - Men's Eight seven seat - eliminated in repechage
1925 – Interstate Men's Eight Championship seven seat – Fourth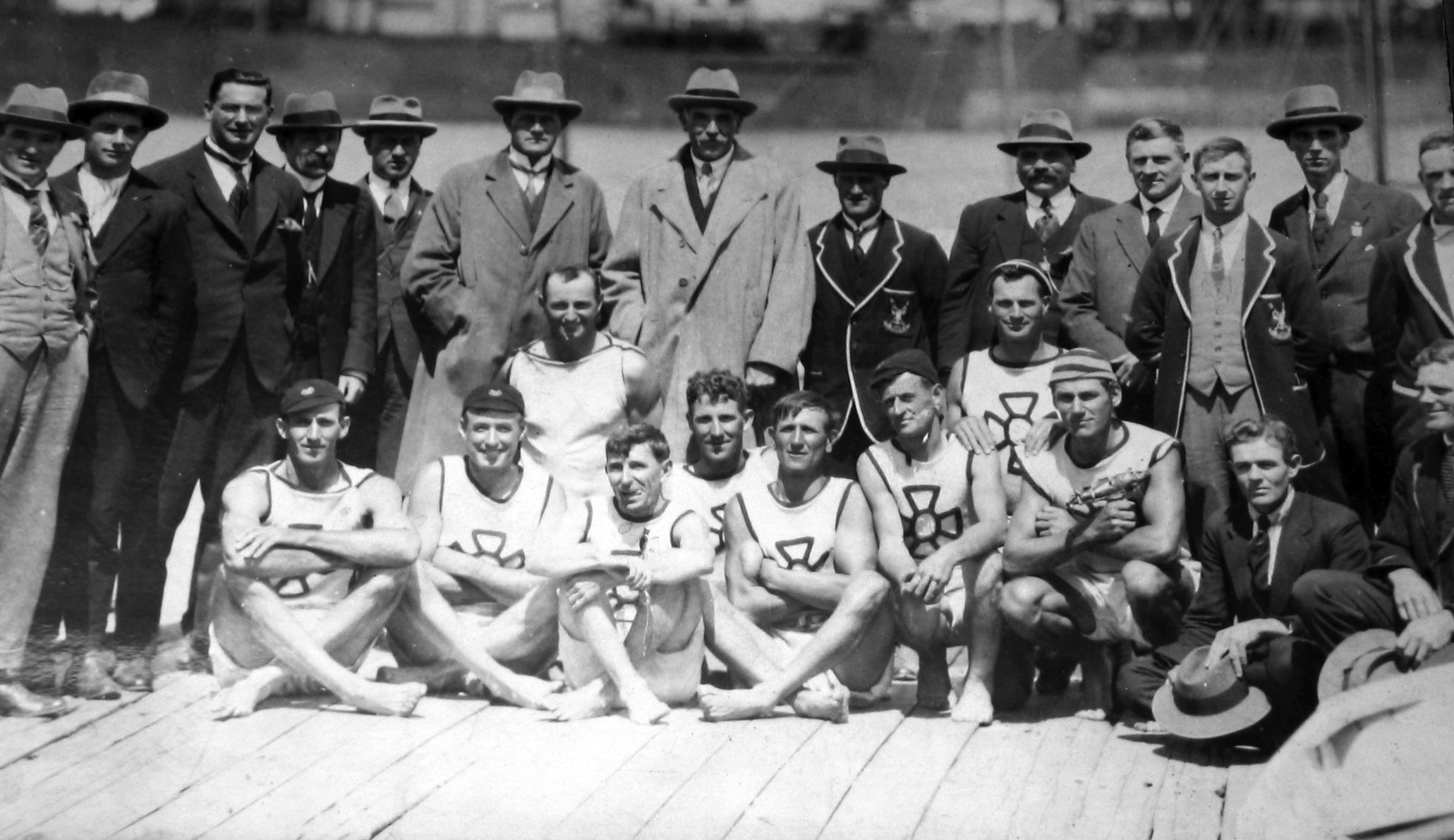 1924 Murray Bridge crew after winning the test race on the Port River in Adelaide
Standing left to right - Unknown, H E Wynne, J P Marcus, F Willoughby, W Christopher, R H Wallman (Chairman SARA), His Excellency Sir Tom Bridges, E Higgs, H L Binney, C A Jepp, C A M West (Hon Sec SARA), S A Johnson, far right unknown
Crew members are from left to right, A C Tauber, E D Thomas, W E H Jarvis, R A Cummings, F M Cummings, H E Graetz, W M Sladden, A V Scott, W H Pfeiffer, G E Tucker (emergency), Aud Martin
Frank was a member of the famous Murray Cods crew, the 1924 Australian Olympic crew from Murray Bridge. He was a loco fireman for the South Australian Railways.
Cummings enlisted to serve in the First World War, months after the first troops landed at Gallipoli. His occupation at enlistment was a storeman from Kaniva Victoria. He left Adelaide in early 1917 and made his way to France where he fought on the Somme. On the Western Front he was promoted to Corporal. In May 1917 on patrol to determine whether the Germans were withdrawing from the Hindenburg Line, he was injured and had shrapnel buried in his back and legs. This eventually led to him being discharged and returning home in December 1918. However before being discharged, he also suffered burns and gas impacts in a mustard gas attack.
Not all the shrapnel was ever removed from his back by the Army surgeons and so he raced with the physical effects of his service and in pain. After his rowing career, the shrapnel in his back shifted, confining him to a wheel chair for the remainder of his life. He died at home in Murray Bridge on November 11, 1954.
His brother Robert was the coxswain of the 1924 crew.
Andrew Guerin
April 2020