Hardy Cubash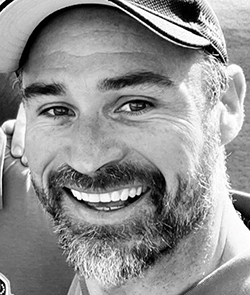 University of Queensland Boat Club (QLD) and Cambridge University Boat Club (UK)
Hardy is a very successful rower on many levels - school, university, State, national and international levels.
Hardy commenced his rowing at Brisbane Grammar School in Brisbane and went onto row in his school's first VIII and winning both the Queensland GPS Head of the River race and the National Championship schoolboy eights race.
Immediately following school, his success continued with the University of Queensland Boat Club during which time he represented Australian in the Under 19, Under 23 and senior World Championships. A highlight was his gold medal winning race at 2005 World Championships in the coxed pair with fellow Queenslander and club mate Sam Conrad.
Not one to let others do all the work, Hardy gave back to his club by serving as President and to his State Association by being a board member.
Hardy continued his education in 2009 by taking up post graduate studies, a Masters of Arts, at St Edmunds College Cambridge. This enabled Hardy to maintain his rowing and other sporting interests whilst undergoing further study. He raced in the six seat of the blue boat in 2009 which went down to Oxford. In 2010, he missed out on his chance to race in the blue boat due to recurring tendinitis in the left wrist. He did however race in the Goldie crew which won.
Patrick Kidd wrote the following in The Sunday Times on 30th March 2010:
Four months ago, Hardy Cubasch would have been certain to be rowing for Cambridge University in the Xchanging Boat Race. A former world champion for Australia and a veteran of last year's defeat by Oxford, Cubasch was being lined up to take the pivotal stroke seat in the Blue boat. Yet as the crews began a week of fine-tuning before the race on Saturday, Cubasch was rowing in Goldie, Cambridge's second crew, the victim of a sustained bout of tendinitis in his left wrist that came at just the wrong moment. For all his pedigree and experience of the race, his coaches made the tough decision to leave him out of their first-choice eight.
He returned to the blue boat in 2011 but alas they did not win. He was, by this stage, the oldest rower to race in either boat at 30 years of age. After the race he is quoted as saying: They had the strength, character and went for it; we just let them slip.
Hardy clearly loves his rowing and sport generally. He continues this interest in his work combining sport and marketing. He also maintains his interest in The Boat Race as Secretary of the Oxford and Cambridge Rowing Foundation.
2005 World Champions - Hardy Cubash on the left
Known rowing record
1997 – GPS Head of the River, Brisbane Grammar First VIII, 4 seat - First
1997 – Australian National Rowing Championships, Schoolboy 8+, 4 seat - First
1998 – National Championships, Under 19 Pair, bow - Third
1998 – National Championships, Under 19 Coxed Four, stroke -Second
1998 – Junior World Championships, Coxed Four, bow seat, 5th place
1999 – National Championships, senior B 8+, 6 seat, 4th place
1999 – National Championships, senior B 4-, 2 seat, 4th place
1999 – Interstate Championships, Wilkinson Cup, four seat - Third
2000 – U23 World Rowing Championships, 8+, Silver medal
2000 – National Championships, senior B 8+, 6 seat, bronze medal
2000 – National Championships, senior B 4-, 2 seat, 4th place
2000 – National Championships, open 8+, 6 seat, Gold medal
2001 – National Championships, U23 4-, 2 seat, silver medal
2002 – National Championships, U23 8+, 4 seat, Gold medal
2002 – National Championships, open 4-, 3 seat, 4th place
2004 – National Championships, open 4-, 3 seat, bronze medal
2005 – National Championships, Open 2-, Gold medal
2005 – National Championships, open 4-, 3 seat, Gold medal
2005 – National Championships, open 4+, stroke seat, silver medal
2005 – World Rowing Championships, 2-, Gold medal
2006 – National Championships, open 4-, bow seat, Gold medal
2006 – National Championships, open 2-, 5th place
2006 – World Rowing Cup I, 8+, 3 seat, bronze medal
2007 – National Championships, open 4+, 3 seat, Gold medal
2007 – National Championships, open 4-, 2 seat, 5th place
2007 – National Championships, open 1x, 4th place C-Final
2009 – Boat Race, 6 seat, loss to Oxford by 3 ½ lengths
2010 – The Reserves Boat Race, 5 seat, loss to Oxford by 2 lengths
2011 – The Boat Race, 4 seat, loss to Oxford by 4 lengths
Flynn Snowden and Andrew Guerin
June 2023
Sources