George Cruickshank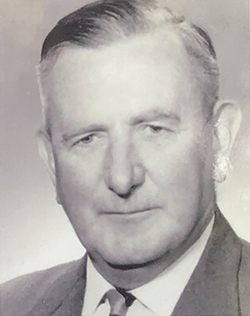 Ulverstone Rowing Club (TAS)
21 October 1903 - 14 June 1968
When George Roland Cruickshank was born on 21 October 1903, in Sheffield, Tasmania, Australia, his father, Alexander Cruickshank, was 49 and his mother, Anna Bella Fraser Russell, was 45.
He married Amy Eda Parsons in 1928, in Sheffield, Tasmania, Australia.
He died on 14 June 1968, in Ulverstone, Tasmania, Australia, at the age of 64, and was buried in Ulverstone, Tasmania, Australia.
George was instrumental in founding the spectacular Leven Canyon Reserve and the Leven Canyon Lookout in northern Tasmania.
The view from the Cruickshank Lookout at Leven Canyon
The following background on George Cruickshank was located on an information board at Leven Canyon.
Man of Action
The main Canyon lookout is named after George Cruickshank, who dared to dream but was also a man of action.
Like many locals, he saw Leven Canyon as a natural treasure to be shared with all. Unlike others, however, George acted on his vision. He owned this land on the upper edge of the Canyon as part of his farm. In the 1960s, he donated 28 acres as part of his quest for a "tourist park".
A leading influence in the local Tourist and Progress Association, he forged an early track to the Canyon edge and worked with other local members to build steps and paths at nearby Gunns Plains Caves.
His energy was founded on an adventurous streak. In his younger days, on the spur of the moment, he jumped aboard a whaling ship in Hobart and sailed to Antarctica in the clothes he was wearing. It was 1926 and he shovelled coal for up to 18 hours a day.
His active community role included cofounding a regional ski club in 1932 and instigating the revival of the Ulverstone Rowing Club after World War II.
He bought the farm from one of the first settlers in the Loongana area, his father-in-law R.L. Parsons, who took up land in 1909.
Andrew Guerin
April 2021