Jack Creaser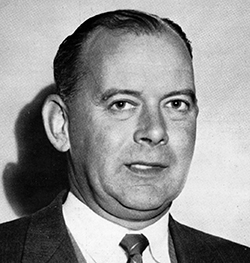 Sydney Rowing Club (NSW)
The following tribute was contained in the Sydney Rowing Club annual report for 1959-60 season.
This year the Committee decided to award the Honour Blazer to Jack Creaser.
There was no doubt at all in arriving at this decision. All will agree that Jack thoroughly deserved this honour.
Jack Creaser joined the club in 1939 and rowed in the lightweight division. He was one of the very smalI band of members who helped to keep the club on the water during the war years.
In the 1949-50 season Jack stroked our winning lightweight champion Eight and was a member of many successful lightweight Fours and Eights during his rowing career.
He gave up active rowing round about 1951 and immediately gave his time and energy to the executive side of the club.
Thus we see him on the Committee for the first time in 1951, becoming Assistant Treasurer in 1953, and then Treasurer in 1957, which position he still handles with distinction.
Perhaps Jack is best known as a selector of club crews and organiser of Point Scores, etc.
It is true to say that he is club minded through and through and whose loyalty to the club has never faltered.
Extracted by Andrew Guerin
December 2020