Brigadier Alison M Creagh CSC AM (Ret'd)
Canberra Rowing Club (ACT)
Alison is a great supporter of the sport. Most recently, she was the person who led, and in the opinion of the author made possible through her determination and knowledge of the ADF, the involvement of the Australian Defence Force rowing team to compete in the King's Cup at the Henley Royal Regatta in 2019, the centenary of the 1919 Henley Peace Regatta. This was an unusual undertaking of the ADF and also of the Henley Stewards and required skilled work behind the scenes for it to occur. It was also a fitting tribute to those rowers who served in WWI. Alison also assisted to great degree in establishing the excellent display at the Australian Championships in 2019 to commemorate the 1919 win by the AIF No1 crew at the Henley Peace Regatta in 1919.
She is a highly competent individual who continues to work for the sport in a variety of ways from behind the scenes work to high profile work such as a Rowing Australia Councillor.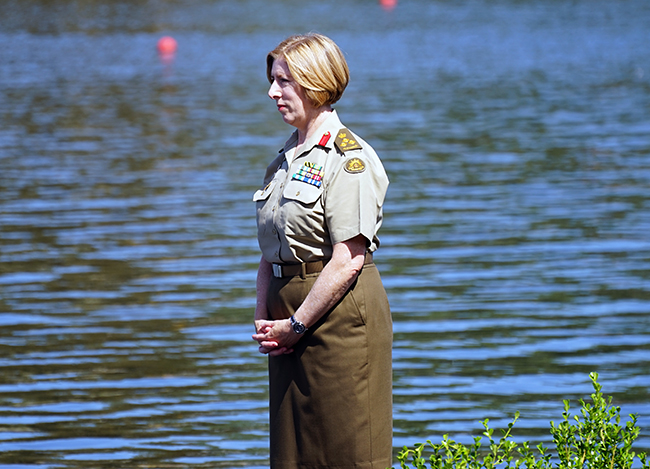 Alison presenting medals at 2019 National Championships
The biographical notes provided for her Membership of the Order of Australia in June 2020 provide an insight into her significant work.
Service and Ex-Service Organisations
Services Member, Veterans Review Board, since 2019.
Chair, ACT Veterans Advisory Council, since 2017 (now ACT Ministerial Advisory Council for Veterans and their Families).
Executive Director, Spirit of Anzac Centenary Experience, 2014-2016.
Vice-Chair, Australian Peacekeeping Memorial Project, 2016 - 2019 and Committee Member, since 2005.
Defence Ambassador and Member, ACT Defence Industry Advisory Board, since 2017.
Trustee, Commando Welfare Trust, since 2019.
Non-Executive Director, Veterans Film Festival, since 2019.
University of New South Wales Canberra
Strategic Adviser, Defence Research Institute, 2018- 2019.
Adjunct Lecturer, since 2017.
Other
Non-Executive Director, The Hospital Research Foundation, since 2016.
Non-Executive Director and Chair, Board of Governors, The Road Home (formerly The Repat Foundation), since 2014.
Ambassador, Natasha's Wood Foundation, since 2018.
Member, Canberra AustCyber Node Industry Advisory Group, since 2017.
Council Member, Australian War Memorial, 2015-2018, and Member, Finance, Audit and Compliance Committee.
Rowing
Founding Member, Patron and former Executive, ADF Rowing Association, 2010 - 2015.
President, Rowing ACT, since 2019.
Assistant Indoor Rowing Coach, Australian Team, 2018 Invictus Games.
Level 1 Rowing Coach and Accredited National and International Para-rowing Classifier.
Military Career
Department of Defence
Director-General, ADF Theatre Project, 2013-2014.
Director-General, Strategic Communication, 2011-2013.
Director-General, Public Affairs, 2010.
Compiled by Andrew Guerin June 2020 from the Australian Honours search facility.
Australian Army
Representative Colonel Commandant, Royal Australian Signals Corps, current.
Member, Australian Regular Army, 1985-2015 retiring with the rank of Brigadier.
Member, Australian Army Reserve, 1981-1984, and since 2015.
Awards and recognition include:
Chief of Defence Force Commendation, 2014.
Conspicuous Service Cross, 1994.