Peter G Crawford
NSW
Peter died in 2022 from cancer aged 67. He was survived by his wife Joan, daughters Megan and Erin, and grandchildren Isaac and Finn.
Peter was a RA Board member (Director of Finance) and wonderful supporter of rowing. He was also a volunteer at the Sydney 2000 Olympics and he took great enjoyment of being involved with the sport at all levels.
As you might expect from his support of rowing with its finances, professionally Peter was a partner in an accounting practice in Sydney.
Peter was a father that was dedicated to supporting his daughters – Megan and Erin – rowing careers. Megan was the stroke of the victorious 2002 New South Wales Women's Youth Eight (Bicentennial Cup), and Erin represented Australia at the 2002 World University Games in the Women's Coxed Four.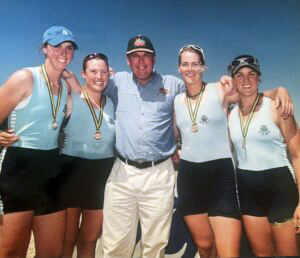 Extracted from a story by Rowing Australia in August 2022