Peter Cram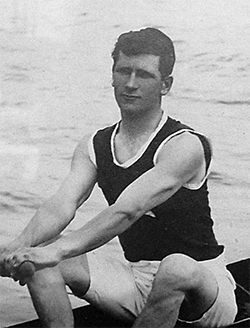 Ballarat City Rowing Club (VIC) and Footscray City Rowing Club (VIC)
Peter Cram was a champion rower and first Captain of the club after World War 1. He started his rowing at Ballarat City and then later at Footscray Rowing Club, rowing in their champion eight there but then returned to City in the critical post war era to bring enthusiasm and life back to his old club. He was kindly, good-natured, champion oarsman, skilled artisan and always ready to share his enthusiasm for rowing with anyone at the club.
Son of John Cram formerly of Jeparit and Mutoa, Peter moved to Ballarat sometime around 1908 to undertake a carpentry and cabinet making apprenticeship. He was an all-round sportsman as in 1909 he is recorded as winning the sheaf toss at the Murtoa Show with a throw of 26 feet and then in February he is listed as a starter in a bicycle road race. Then he joined the rowing club in the 1908-09 season as a novice oarsman and had his first win that year at the Ballarat Rowing Association Novice Regatta 1909 with the crew of W.Bryant, H.Allchin and G.Allchin.
In the 1910-1911 season he raced and won Junior pairs at Ballarat Regatta with Harold Blick and Ozzie McPhail as coxswain. In 1912 he had moved back to Footscray as he and pair partner Blick, raced at Ballarat Regatta that year, in Senior pairs representing Footscray Rowing Club. The race was won by the Commons brothers of Ballarat City Rowing Club! He spent 1912-1917 in Footscray as he returned to Ballarat again and was instrumental in reopening the shed which had been closed for nearly two years and restarting the club in 1918. As first Captain post-war he had a very significant role in restarting the club and framing how it would move into the future. In that season he won Novice sculls at BRA Novice Regatta and the Maiden and Junior Sculls at Melbourne Regatta.
He worked at the Railway Workshops in Ballarat as a carpenter at a time when train carriages constructed mainly of timber. His level of skill is evident in the picture frame he hand carved for the photo of him in 1911 in the winning Maiden pairs at Ballarat Regatta. The photo is still in possession of the club. Many young men joined from the Railway Workshops at this time and it became somewhat of a tradition with many club members coming from the Workshops in the 1920's. Possibly Peter Cram recruited rowers from amongst his workmates.
In early 1918 "A band of earnest workers made the shed safe and habitable. Messrs. W. Nankervis, J. Frees, G. Eaton, J. Hazelgrove, J. Hodges, Lethborg and club Captain P. Cram gave the old shed a thorough overhaul in their spare time.
At Ballarat Novice Regatta Mr. P. Cram, club captain, won the Novice sculling race. The club held numerous scratch and trial fours throughout the season. Donations of trophies for these races were received from Mr. Jas. Tulloch, W. M. Reid, G. Vickery and St. Patrick's College.
No new boats were purchased but the captain Mr. Cram overhauled all the equipment and made sure it was kept in good repair. The north side of the jetty was rebuilt by the members volunteering their time and labour." (Excerpt from "The Boys From the Rush Beds-K. Elliott)
In 1923 when the club was continuing its revival after the war, they had a boat christening in January they christened 10 boats, where one of the practice fours was named the "Peter Cram" in his honour.
Winning Junior Pair 1911 Ballarat Regatta. Ozzie McPhail - cox, Peter Cram - stroke and Harold Blick – bow
Peter married in 1923 and moved back to Footscray where he continued rowing at Footscray Rowing Club. He was still living in Footscray in the 1950's. He had three sons, Alec, Hugh and Harry. Peter married a second time in his 70's and moved to live in Mildura where he joined the Clay Pigeon Shooting Club and the Duck Hunting Club. He died aged 88 on the first day of duck hunting season.
Peter and his rowing partner Harold Blick ended up brothers-in-law, marrying two sisters May and Alice Cunningham.
Kate Elliott
August 2021