Anthony (Tony) M Cordell
Mercantile Rowing Club (VIC)
Anthony Max Cordell 24th December 1939 - 6th June 2011
The following obituary appeared in the 2011-11 Club annual report.
Tony went to Scotch College and then came to Mercantile in the late 1950's and rowed in the senior VIII in the bow seat in the era when Banks were our major opposition.
He did great service coaching junior crews in the late 1960s including the Maiden VIII, which won the Christmas trio at Nagambie, Rutherglen and Yarrawonga plus success on the Yarra. Tony rowed in the famous veterans VIII known as the Cock Robbins in the early 1970s.
He won the Champion Junior IV at the 1957/58 State Championships, repeated in 1958/ 59. He won the 1960 /61 Champion VIII from the bow seat.
Tony was successful coaching the 1966 / 67 Champion lightweight IV.
Over his later years he enjoyed his visits to the club and was a delightful fellow.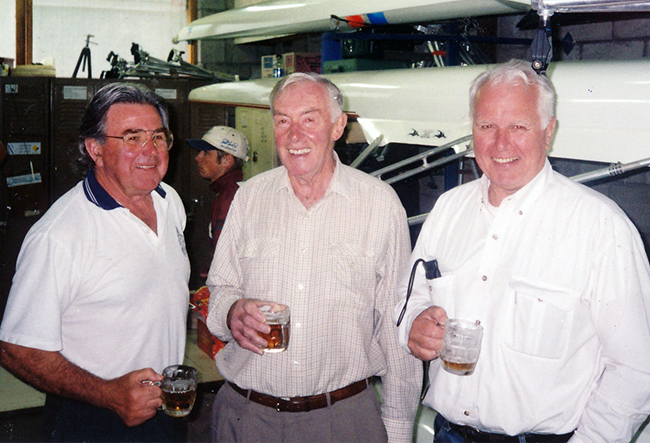 Anthony Walker, Spiv White and Tony Cordell enjoying a beer in the South West Corner in about 2005
Andrew Guerin
February 2023