Dr Richard A Cooper
Mercantile Rowing Club (VIC)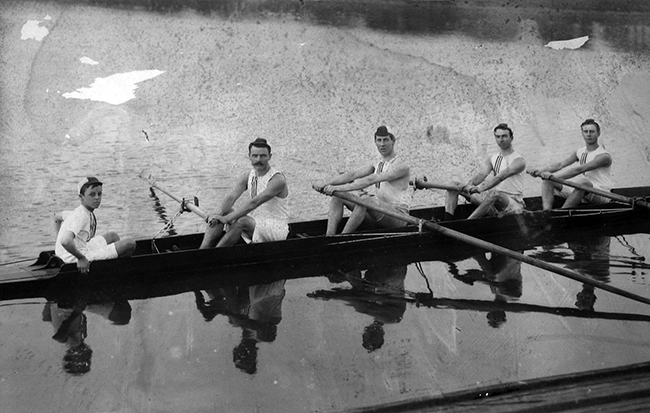 Richard Cooper coxing a winning junior four in 1905
Richard Austin Cooper was a great coxswain and coach of the Mercantile Rowing Club. He first appeared in the winning crews of the Club in the 1903-04 season. "Doc" Cooper, as he was to become affectionately known in later years, had thereby started an association with Mercantile which was to extend over a period of almost 70 years. During his time, the Club was to benefit from his outstanding services as a coxswain, oarsman and coach.
Richard Austin Cooper, familiarly known to members as "Doc", had a fairly extensive knowledge of rowing prior to joining the Club, as he coxed Melbourne Grammar Head of the River First Eight Crews in 1902 and 1903.
Soon after joining Mercs he was selected cox of our Senior Eight, which position he held for a number of years. Those were the days of stirring competition between Alec Sloan of Mercs and the Donald brothers of Albert Park. As a deep thinker of rowing in those days, young "Doc" saw much merit in the form and method of both crews, and years later when he commenced coaching he endeavoured to blend the leading points of both those crews into the crew he was coaching.
When increasing weight caused him to retire from coxing he turned to rowing and sculling. As a lightweight oarsman and sculler he competed at regattas for several years with varying success.
It was, however, as a coach that we discovered the real brilliance of the former coxswain. He had many successes over a long period, but unfortunately his professional duties considerably reduced the number of crews it was possible for him to coach.
The Club's centennial history records that he was brought back into service as a coach to look after the Club's senior oarsmen. He did this with great success. His crew won the Grand Challenge Cup, the first time Victorian crew had dome that for five years. Two members of that crew were selected into the Victorian crew and they were disappointed with that number. To celebrate its successful season, the senior eight tendered a complimentary dinner to their coach Doc Cooper and attended by all members of the crew.
After retiring from active coaching, he spent much time assist­ing a number of less experienced coaches.
The obituary for Doc added: "Doc's" father was a Mercs member for many years, and now his passing terminates the association of approximately 80 years of the Cooper family with this Club.
"Doc" was a great Clubman and a generous supporter of Club affairs. He was a regular attendant at regattas on the Yarra, and also for many years at leading country regattas.
Rowing in general, and Mercantile in particular, can ill afford the loss of such a noted authority on rowing.
Following his retirement from coaching, his shrewd and often caustic judgement of crews and oarsmen was greatly respected.
Richard Cooper coxing a winning maiden four at Bairnsdale in 1905
Following his death in 1972-73 season, the R A Cooper Memorial trophy was established through the generosity of his family in his memory. It is awarded to the member who has rendered the most outstanding service to the Club.

The trustees of this fund have invested the funds wisely and the fund now supports club members racing internationally, a secondary purpose of the fund.
Andrew Guerin – extracted from the Club's Centennial history and his obituary.
May 2019