George E Cook
Parramatta Professional Sculling Club and Glebe Rowing Club (NSW)
George Cook in 1949
The following passage has been extracted from The Boatshed on Blackwattle Bay: Glebe Rowing Club 1970-1993 by Max Solling and published by Glebe Rowing Club in 1993.
George Edward Cook was born on 10 September 1913, the eldest of seven children of mail contractor George Cook and wife Catherine. He became adept at the oar, rowing from his home to school at Spencer on the middle reaches of the Hawkesbury River. He left the Hawkesbury for Sydney in 1936 and joined the Par­ramatta Professional Sculling Club at George Towns Gladesville shed. Six foot tall and weighing 13-8, during the next four years Cook produced some outstanding sculling performances to win the Towns-Fisher Cup, a series of six professional sculling races (held two weeks apart in 1938, 1939 and 1940) the Grafton Hundred on the Clarence River in 1939, 1940 and 1941. And in 1938, Bobby Pearce, Evans Paddon and Cook, the three finest professional scullers in the world, gave a series of sculling exhibitions in Canada that attracted considerable attention.
George Cook joined the Glebe club in 1939, beginning a unique association, a professional actively involved in an amateur club. An affable personality with a lively sense of humour, George worked as a kiln supervisor at A. C. Saxton's Pyr­mont and at Vanderfield & Reid, Glebe, and later had a wholesale business at the City Market. He kept himself in great shape, swimming, walking to and from his work and rowing regularly from the Glebe shed. In May 1949 Cook challenged Evans Paddon for the world professional title at Evans Head on the Richmond River over a three mile course rowed in three-quarter mile laps round buoys. Cook showed great speed off the mark and overshadowed Paddon in manoeuvring round the buoys to win the title by 12 lengths; it earned him a 400 pound purse. In a rematch a year later Paddon was to regain the title. Four times Australian sculling champion Herb Turner, who coached Cook, was convinced that if the boy from Spencer had sculled as an amateur he had the skill to win an Olympic Gold Medal.
Cook took part in his last professional race in 1952. The northern rivers of N.S.W. was the last bastion of professional sculling, and when several country clubs abandoned the professional ranks in the early fifties the sport died. In 1958 Evans Fisher retired undefeated world sculling champion.
From the 1950' s George Cook devoted much time and effort to coaching ama­teur rowers. He coached Islay Lee to the national sculling title, the first time a mem­ber of the Glebe club had achieved that honour, and Cook displayed a willingness to go to any club to assist any promising sculler - Lee and Kirk Olsson from Glebe, Bill Hatfield from Mosman, Jim Magee from Drummoyne and Stuart McKenzie from Leichhardt and Sydney. He had outstanding success with maroon crews in Gladstone skiffs in the seasons between 1968 and 1975. His contribution to Glebe was recognised in 1974 when he was created a life member.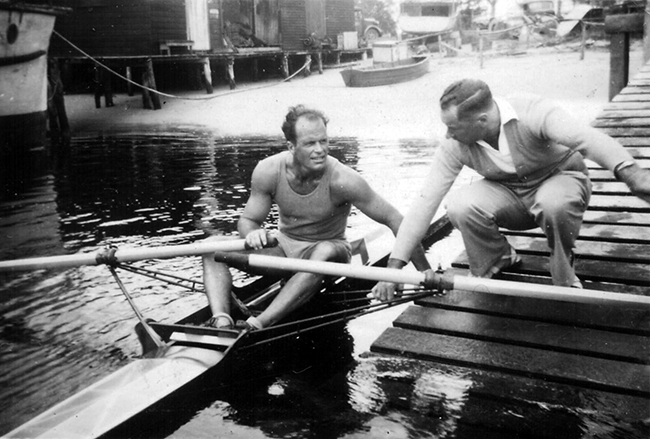 George Cook with coach Herb Turner in 1950
Extracted by Andrew Guerin and images added
January 2022