Robert H Commons
Ballarat City Rowing Club (Vic)
Robert Haniford Commons
1906 - Club Trial pairs, Robert and William Commons
1907 - BRA Novice Regatta, Novice Sculls-Robert Commons
1908 - Footscray Regatta, Maiden pair, Robert and William Commons (1st)
1908 - Upper Yarra Regatta, maiden pair, Robert and Willian Commons (1st)
1909 - BRA Novice Regatta, Novice sculls-Robert Commons 1st, William Commons 2nd.
1909 - Ballarat Regatta, Junior pair, Robert Commons, H.Hawkins (1st)
1910 - Ballarat Regatta, Maiden Scull-Robert Commons (1st)
1911 - Albert Park Regatta, Maiden four- R.Commons, F.Beaumont, G.Sams and H.Myles (1st)
1911 - Ballarat Regatta, Junior four- R.Commons, F.Beaumont, G.Sams and H.Myles (1st)
1912 - Ballarat Regatta, Senior pairs-Robert Commons, William Commons (1st)
1912 - Bairnsdale Regatta, Senior pairs-Robert Commons, William Commons (1st)
1912 - Barwon Regatta, Senior pairs-Robert Commons, William Commons (1st)
1912 - Colac Regatta, Senior pairs-Robert Commons, William Commons (1st)
1913 - Barwon Regatta, Senior pairs-Robert Commons, William Commons (1st)
1913 - Ballarat Regatta, Victorian Champion Senior pair- Robert Commons, William Commons (2nd)
Robert Haniford Commons was born in Ballarat in 1888. He was the second son of Frederick William and Emily Commons. Father Fredrick was a noted sculptor and monumental stone mason. He had also been a successful member of Ballarat Rowing Club serving as Captain for five years between in 1886 and 1893. Robert and older brother William attended Pleasant Street Primary School and then both went on to Ballarat College are listed on the College register in 1903. Youngest brother Mario joined them there in 1904. Robert was reportedly a promising football player for College mentioned in the College Annual report of 1905 and 1906. The headmaster stated that "Our best footballer is R. Commons who, often against the odds, more than held his own in every football fight." Ballarat College didn't have a rowing program until 1914, in their Jubilee year, when they built a shed on the Lake. Robert Commons, "…a successful old boy oarsman" volunteered his services as coach.
Robert graduated from College and attended the School of Mines in about 1912 to train as a physicist. He listed his profession on his enlistment papers as physicist. For four years prior 1916 he was working on his invention of a liquid piston for an irrigation pump. Robert and his brother William were the pre-eminent oarsmen at Ballarat City Rowing Club from about 1906 until the outbreak of war in 1914. They were the first members of the club since Zachariah Giles and John Stout in 1875 to win Senior pairs. Robert won his Novice sculls and also Maiden pairs with his brother William at Ballarat Regatta in 1908. He won Maiden sculls and Junior fours at Ballarat Regatta in 1910 and his Maiden fours at Albert Park. Then in the 1911-1912 season, he and William took out a record four Senior pairs at Colac, Ballarat, Barwon and Bairnsdale Regattas. In 1913 the brothers again won Senior pairs at Barwon Regatta and placed second to the Albert Park crew by a mere half a length in the Victorian Championship for Senior pairs held on Lake Wendouree. This would be their last pairs race together. Younger brother Mario had joined Ballarat Rowing Club and was having success in 1909 to 1915.
The outbreak of World War 1 in 1914 bought to an untimely end the most successful pairs partnership the club had seen. William also married in 1915 and Robert was obviously busy working on his invention. There were very few regattas and the club had essentially shut down. Information from his father after Robert's death, was that Robert was the inventor of the liquid piston. It took some research to find that this was something relating to an irrigation pump. None of his personal papers survive to it is not possible to ascertain exactly what a liquid piston was. The information about the irrigation pump was gleaned for the Ballarat Evening Echo reporting on the Military Service Exemption court. In 1916, all men under the age of 30 were required to attend compulsory military training camps. Robert applied for an exemption on the grounds of his research but that was denied.
In November 1916 he had to appear in court in Ballarat to apply for a continued exemption from military camp on the basis of his invention which he believed to be of National importance. The Ballarat Evening Echo of the 7th of November reported that Commons supplied private papers detailing of his work and invention but the judge's only comment was "Perhaps you could go into and develop work in camp." He also had several references including Mr. Refshauge principal of the Agricultural High School. When Robert realised he would not be exempted, he "abruptly" packed up his papers and left the court in disgust saying he would have "no more humbug over this matter..". He did not get an exemption and attended the camp and sometime 1917 and giving in to the various pressures that were no doubt applied finally enlisted.
He enlisted on the 13/9/1917 aged 28 years and 10 months. He was at Broadmeadows Recruiting Depot from 20th of September until the 8th of October. He embarked overseas on HMAT Nestor on 21st of November 1917 and disembarked at South Hampton on the 24th of January 1918. He proceeded to France and was taken on strength 24th Battalion in the field on April 26th 1918. He was killed in action on 19th of May 1918 less than a month after arriving. He was buried by Rev. W. C. Smith at 6th Australian Infantry Base, Heilly-sur-Somme Cemetery No. 2 which is near the town of Corbie.
On 6 Dec 1918 payment from his estate was passed to his mother Mrs E. Commons of 41 Ackland Street, St Kilda, Victoria. His Memorial Scroll 346055 went to his father on 6 Jul 1921 and Memorial Plaque 346055 to his father on 3 Nov 1922 and Victory Medal No. 2322.
His brother William also died young in 1920 leaving a widow and young child.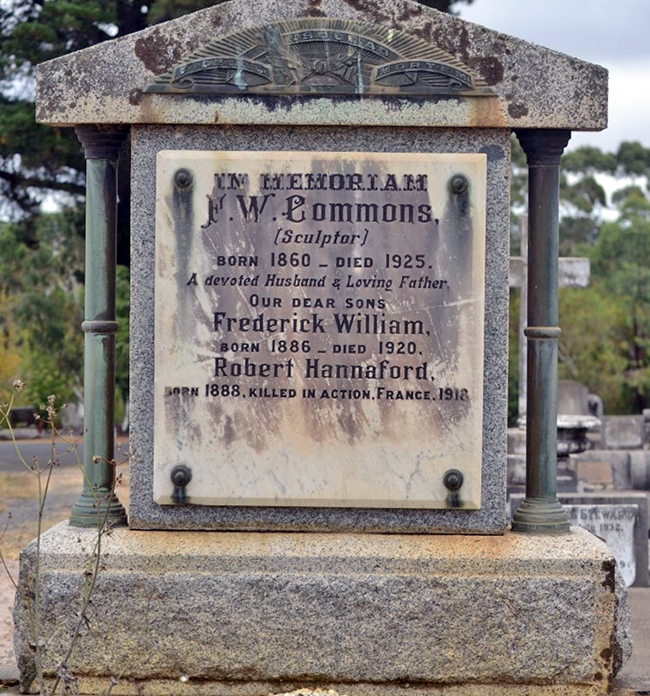 Note: On his enlistment papers Robert signs his second name as HANIFORD but on the family headstone it is written as HANNAFORD.
Kate Elliott
September 2021