Frederick L Coldwell-Smith MC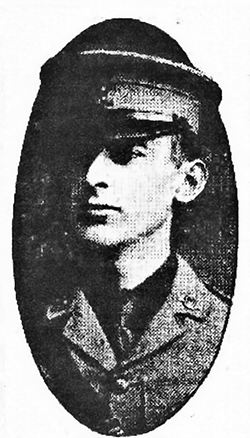 Ballarat City Rowing Club (VIC)
Frederick Lawrence Coldwell-Smith was born in Ballarat on the 10th of June 1895. His parents were Frederick and Sophie Coldwell-Smith and they lived in Dana Street, Ballarat. He attended Pleasant Street Primary School where he won the Education Department's art scholarship and the Hagelthorn agricultural scholarship which allowed him the opportunity to continue his art and agricultural studies at Ballarat Agricultural High School. While there he was one of a group of 16 students of Ballarat Agricultural schoolboys who began rowing at Ballarat City Rowing Club in 1912. He then qualified for entry to the new Duntroon Military College in 1913 and was probably at Duntroon with several other High School recruits in 1914 including George Greenshields.
He graduated from Duntroon on 28 June 1915 and was appointed as a Lieutenant on 1 July 1915, sailing for Egypt on the HMAT Ascanius in November 1915 with the 29th Battalion B Company. He was just 20 years old and single, with his mother Sophia Coldwell-Smith listed as his next of kin. He was appointed as a Captain in February 1916 and spent from March to June in Eygpt and was commended for his work as Intelligence Officer there. He arrived in Sailly, France in July 1916. He was slightly wounded in August 1916. He continued his work there up until September 1916, as Company Officer and Intelligence Officer and it was for this he was recommended for and awarded the Military Cross. It was promulgated on the first of January, 1917, and was for distinguished service in the field.
After being hospitalised in England with severe bronchitis, Coldwell-Smith returned to France and was attached to the 15th Brigade Headquarters. At the end of 1917 he undertook training as a Staff Officer and was then detached to the War Records Section in London. In October 1918 he was transferred to the 32nd Battalion and on the day the war ended Coldwell-Smith was admitted to Bulford Hospital. He rejoined the War Records Section the following year and returned to Australia in December 1919. He remained in the army after the war but health problems prevented his active service in World War 2 and he retired on 2 November 1940. Frederick Coldwell-Smith died in Sydney on 23 November 1967.
Kate Elliott
December 2021