Pauline Coates (nee Kahl)
Sydney University Ladies Rowing Club (NSW)
Pauline Coates (née Kahl) has passed away Monday 11th July 2022 following a short battle with cancer, aged 65.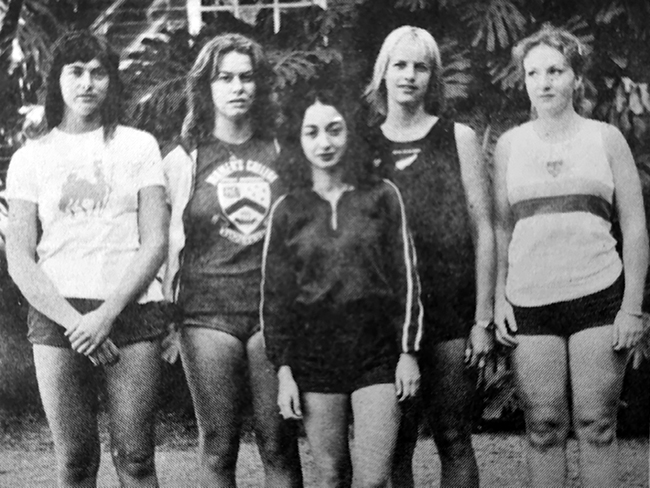 Pauline second from the right rowing for Sydney University Ladies Rowing Club
Pauline rowed for Sydney University Ladies Rowing Club through the late 70s and was presented a Blue in 1978. She represented NSW that year in the Women's Four and was a member of the Australian Rowing Team at the 1978 World Championships and 1980 Moscow Olympic Games.
1980 Australian Olympic Rowing Team with Pauline front row left
Immediately following her racing career, Pauline married fellow rower John Coates and raised six children, some of whom remain actively involved in the sport.
In the late 90's, Pauline returned to the sport as a coach at Sydney Rowing Club, Roseville College (where her daughter rowed), Women's College at Sydney University and Shore School where her crews enjoyed a great deal of success. Her coaching philosophy was that the rowers needed to enjoy their rowing. If they enjoyed it, then they would do well. At the time she was coaching senior crews at Shore, she was breaking new ground as it was unusual for a woman to be in such roles.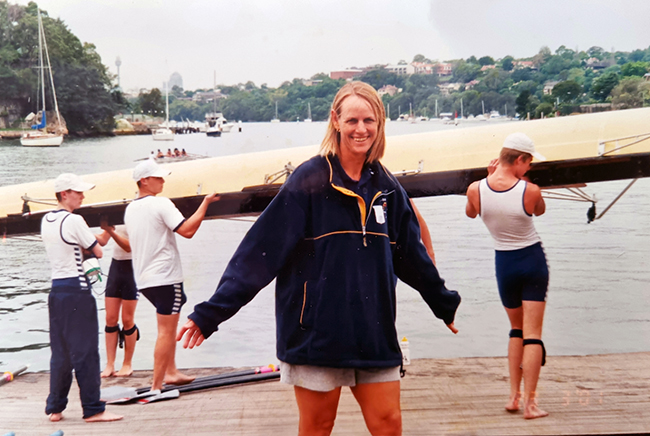 Pauline coaching at Shore
And to top off her on-water work, Pauline also served as President of Sydney University Ladies Rowing Club.
Rowing was not her only sport. Whilst competing in rowing, Pauline also competed in hockey. Throughout life, she enjoyed golf and other sports.
Pauline's contribution to rowing is impressive, as is her strong imprint on so many lives within the sport.
Rowing summary
1976 - Australian University Championships, Women's Four, two seat
1977 - Australian University Championships, Women's Four, bow - First
1977 - National Championships, Women's Pair, bow - Third
1978 - Australian University Championships, Women's Pair, bow - Second
1978 - Australian University Championships, Women's Four, two seat -Sixth
1978 - National Championships, Women's Pair, stroke - First
1978 - National Championships, Women's Four, two seat - Second
1978 - National Championships, Women's Eight, five seat - Second
1978 - World Championships, Women's sweep reserve
1978 - Interstate Championships, Women's Four, bow, Third
1980 - National Championships, Women's Pair, bow - Fifth
1980 - National Championships, Women's Four, bow - Second
1980 - Olympic Games, Women's sweep reserve
1981 - National Championships, Women's Scull - Third
1981 - National Championships, Women's Double Scull, bow - First
1981 - National Championships, Women's Quad Scull, three seat - First
1981 - National Championships, Women's Eight, three seat - First
Andrew Guerin
July 2022
Sources:
Paul Coates' records
Conversations with Paul Coates and Chris Noel
Author's records