Jennifer Cleary
Barwon Rowing Club and Mercantile Rowing Club (VIC)
Jen was born into a rowing family in 1993 in Geelong. Her father Andrew was a rower and subsequently her brother also rowed.
She started rowing for Barwon Rowing Club at the age of only twelve. This was no great surprise given her father Andrew was coaching and older brother Tim had taken up the sport.
Jen started competitively rowing with school in years 9-12 at The Geelong College. Her first crew won head of the river in 2011 and she won nearly every race as juniors (in years 9 and 10). She also won her first national championships medal in the under 17 quad in 2009 with fellow future Mercantile member Addy Dunkley Smith. Her success at school was probably the reason she continued and the reason she was so motivated.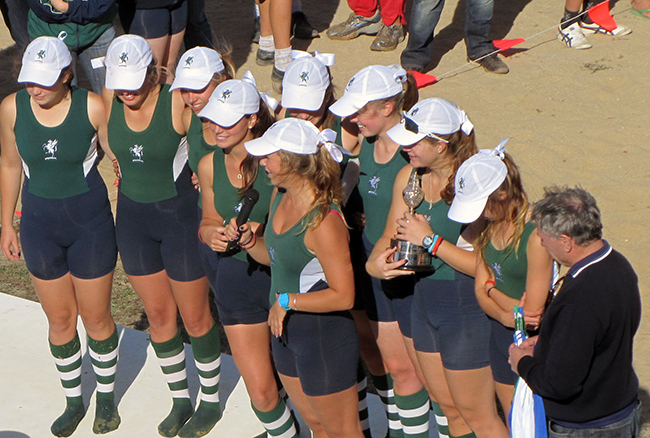 Jen holding the trophy tight during the presentation of her APS Head of the River win
Jen came to a Mercantile Rowing Club camp towards the end of school as part of the school leaver program. In her words, "Met an amazing bunch of girls and had some pretty influential and supportive coaches who provided a very solid training program and the encouragement I needed to make the Youth 8 in 2012." She also entered the under 23 single this year at the Nationals and won the B final which would have got her an invite to trials, if she had have nominated.
The following season she moved into the single and got selected to row in the under 23 women's eight in Linz (there were no other under 23 scullers) in 2013 and then she got asked to be the reserve for the senior women's quad in the same year in Korea. She ended up racing (stepping in for Maddie Edmonds) in the B final where they finished second.
From then, Jen became a settled member of the Australian women's quad with Maddie Edmonds, Jessica Hall and Kerry Hore.
The Australian quad at the Rio Games, Jen in the three seat
Results summary:
2009 - National Championships, Under 17 Quad Scull, two seat - First
2011 - APS Head of the River First crew - First
2012 - Interstate Championships, Bicentennial Cup, seven seat - Third
2013 - World Under 23 Championships, Women's Eight, six seat - Fourth
2013 - World Championships, Women's Quad - Eighth
2014 - World Championship. Women's Quad - Fourth
2015 - World Cup 3, Women's Quad - Silver
2015 - World Championships, Women's Quad - Fifth and qualified for the Rio Olympic Games. (Jen added that this was a particularly memorable race as they caught a crab in the first 200m and had to race for their lives to get into fifth place, "I'm not sure I will feel that sort of adrenalin ever again!"
2016 - World Cup 3 ( one month out from Rio we were 0.32sec off the Germans).
2016 - Olympic Games, Women's Quad - Seventh
2017 - Henley Royal Regatta, Princess Royal Challenge Cup - Quarter finalist
The result in the Olympic Games was a particularly devastating for the Australian crew despite the field being so tight and with every boat was within 1-2 seconds of each other. Jen commented: "I think this results and my journey really demonstrates the nature of elite sport at that level. It is unpredictable, and also taught me that you have to love the process, because not everyone can get the gold medal at the end of the race!"
Jen continued training in 2017 to compete at Henley in the single. She made it to the quarter finals before getting knocked out by the New Zealand sculler. Jen clearly saw this as a huge highlight in my career as she got to wear her Mercantile zootie on the world stage. "It was an honour to be able to represent such a renowned club. The atmosphere of Henley was just amazing and is something that I would love to go back and do one day!"
Jen in the quarter final at Henley Royal Regatta
In the umpires launch following Jen at Henley, Sir Matthew Pinsent umpiring, coach Bill Tait and father Andrew on one side and Dr Bibi Colgan on the bow side
Jen retired from top level competition after Henley but continues to enjoy rowing for fun and just being around the sport and the great people who are involved in it.
Jen finished her interview with some acknowledgements. Her family of course but then her Cub. "A huge thanks to Mercantile. A club that is full of amazing people that encourage and support their athletes to help them reach the pinnacle of the sport. Lastly to my coaches, such as Chippa (David Colvin) and Mark Fangen Hall, who's dedication helped develop my rowing and ultimately achieve all my success, I am eternally grateful."
Well done Jen on such a great career and we look forward to continuing to see you on the river.
Andrew Guerin
April 2021
Sources:
Interview with Jennifer Cleary
Photos - Andrew Guerin