Alex Clarke
Mercantile Rowing Club (Vic)
Alex commenced his rowing at Brighton Grammar School. In 2014 he raced in their first crew which finished the Head of the River in third place.
Alex joined Mercantile after school rowing finished and won his first race for Mercantile at the 2014 Head of the Yarra – men's C division – see above.
At the start of 2015, Alex was four seat of the youth Mercs eight and also competed in the Mercs A grade open eight at Melbourne Head and Head of the Yarra (1st and 2nd respectively).
This season has had a sound preparation with a strong youth group. Pair partner is Alex Wolf and they are racing well with good results at regattas so far.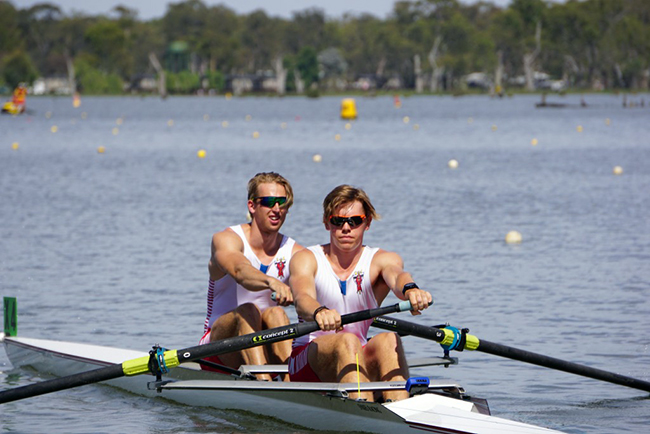 Alex in the stroke seat of a pair at the Carrum Regatta in December 2015
Most memorable race? Barwon Regatta in 2015 when we won against MUBC.
What are your aims for 2015-16 season? Under 21 pair and under 23 eight at the Nationals and winning Victorian youth eight at Interstate Regatta.
Why rowing? Accountability for your actions. It is tough and you need to push yourself hard to get success. Personal development in so many ways.
Why Mercs? The high performance culture and work ethic, it is contagious. It is great working with so many like minded people. Mercs has good depth and prospects are bright.
Andrew Guerin, 2015