Ernest Christie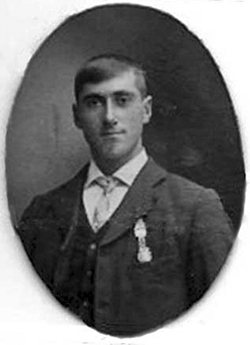 Ernest Christie (also known as Christy) 28 Feb 1884 - 1 July 1932
Eaglehawk Rowing Club (VIC) then Sandhurst Rowing Club (VIC) (which later merged with Bendigo Rowing Club (VIC))
Ernest was a leading sculler and administrator of rowing in the Bendigo region pre WWI. He may well be the first Bendigo oarsman to have competed in the Victorian Championships. At and before the turn of that century, most region clubs competed against each other rather than at the State level. In the case of this region, the Bendigo, Sandhurst, Eaglehawk, Seymour, Cobram, Shepparton and Echuca clubs formed part of the Northern District Rowing Association and organised their own competitions.
Captain of Eaglehawk Rowing Club, which may have merged with Sandhurst Rowing Club, or was wound up pre WWI.
As an aside, Eaglehawk Rowing Club appears to have been based at Lake Neanger below Canterbury Park. This lake was opened by the Council of Eaglehawk on 12th December 1883. It not known how long Eaglehawk Rowing Club remained on this lake.
Sandhurst Rowing Club and Bendigo Rowing Clubs were formed on the Upper Grassy Flat Reservoir, with the distinction between them apparently being religion. The Catholics were predominant at Bendigo, and the Protestants at Sandhurst. These Clubs moved to Lake Weeroona when it was opened in 1880. The current Bendigo Rowing Club appears to be the continuation of the combined Sandhurst and Bendigo Rowing Clubs with the Bendigo Rowing Club history referring to a change of name to Bendigo Rowing Club and in another place, merging. We assume it was a merger in about 1927.
1909 - Competed in the Victorian Sculling Championship as Sandhurst Rowing Club and finished third - as previously mentioned, probably the first Bendigo entry in the State Championships.
1909 Nov 3 - Christie organised the sporting program for the opening of the 1909-10 Eaglehawk Rowing Club season. The Bendigo Independent reported on 4th November 1909 that Christie was a fine sculler who had achieved much success and had recently performed well at the Victorian Championships.
1910 - Won the senior scull at the Victorian Rowing Association Regatta on the Yarra on Saturday 3rd December 1910.
1912 - Competed again in the Victorian Sculling Championships finishing fourth.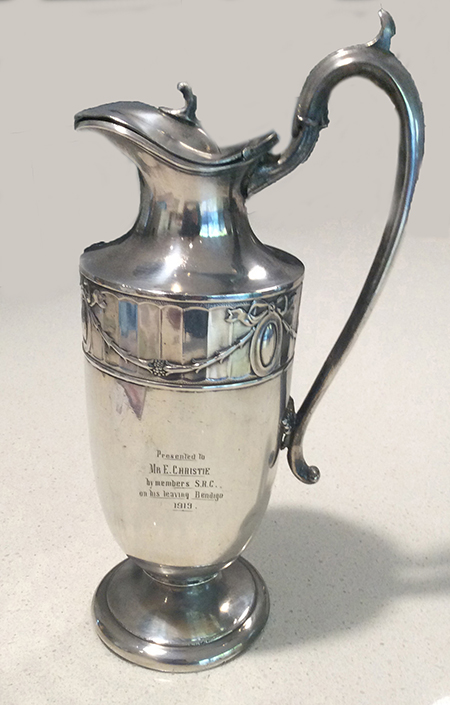 His work for Sandhurst Rowing Club must have been substantial as the members presented him with this superb claret jug when he moved to Melbourne in 1919.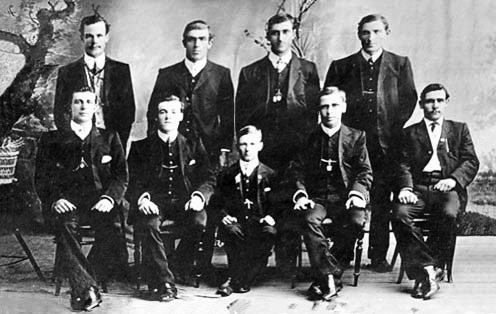 Sandhurst Rowing Club members with Ernest Christie back row second from the right. Also in the back row on the left is his best man Robert Lightfoot.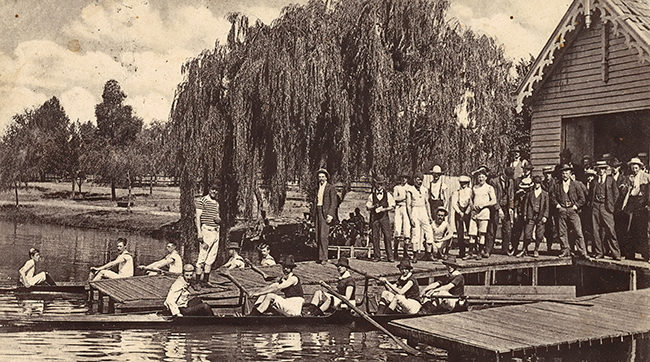 The Bendigo Clubs in 1906 - photo from State Library
Background information on Ernest Christie.
He was born at Carlton on 28 Feb 1884 to Grace Duro Cristy (unmarried). He was adopted by his grandmother Susan Charity and (step) grandfather Ernst Christie. Hence the confusion over the spelling of his surname. Ernest lived at Leslie St. Sailor's Gully (Eaglehawk) until he got married in 1914 and was living there when his grandmother died. He then moved to Bayne St. Bendigo.
Ernest married Freda Essie Mitchell in 1914 (fellow Sandhurst rower Robert Lightfoot was his best man).
He was originally employed in one of the mines at Long Gully, but later on became a tram driver (motorman) in Bendigo. He was at one time a Vice President in the Bendigo Tram Union, which he continued on with in Melbourne. His employment in the mines may have arisen from his friendship with Robert Lightfoot. Robert's father John was a pioneer mine manager in the Eaglehawk district.
He died at Coburg on 1 July 1932, aged 48 of heart failure.
Compiled by Andrew Guerin from materials provided by Brian Anderson, a grandson of Ernest Christie.
August 2020
Sources:
Images and background information on Christie from Brian Anderson, grandson of Ernest Christie
Commemorative Booklet - 1992, Bendigo Rowing Club
"ROWING" Bendigo Independent Thursday 4th November 1909 page 2
"ROWING NOTES." Leader (Melbourne, Vic. : 1862 - 1918, 1935) 16 October 1909: 18. Web. 23 Aug 2020 <http://nla.gov.au/nla.news-article197077951>.
"ROWING." The Argus (Melbourne, Vic. : 1848 - 1957) 5 December 1910: 4. Web. 23 Aug 2020 <http://nla.gov.au/nla.news-article10482335>.
Victorian Rowing Association minute book 1912
Argus, 9 Feb 1938 page 11, Obituary Robert Lightfoot