Ernie W Chapman OAM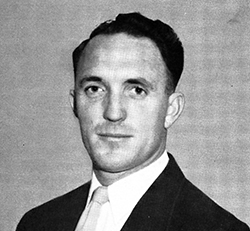 Sydney Rowing Club (NSW)
1950 – Interstate Men's Eight Championship emergency
1951 – Interstate Men's Eight Championship emergency
1952 – Interstate Men's Eight Championship four seat – Second
1952 - Olympic Games – Men's Eight two seat – Bronze
1952 – Henley Royal - Grand Challenge
1953 – Interstate Men's Coxed Pair Championship stroke – First
1953 – Interstate Men's Eight Championship emergency
1954 – Interstate Men's Eight Championship two seat - Second
Sydney Rowing Club coach
1966 - GPS Head of the River, Newington coach - First
Vice-President Sydney Rowing Club, then President
1974 - Life membership, Sydney Rowing Club
The following tribute was provided to Ernie in the 1958-59 Sydney Rowing Club annual report.
This year the name of yet another loyal Club member will be added to the esteemed list of members entitled to wear the Honour Blazer of our Club.
The Committee was unanimous in its recommendation to present Ernest Chapman with the coveted award.
Ernie joined Sydney Rowing Club in 1949 and rowed in his first year as a junior oarsman. Selected to row champion eights in 1950 be went on to represent N.S.W. in Kings Cup crews from 1950 to 1954 inclusive, of which three of those crews were winning combinations.
In 1950 Ernie toured New Zealand with the Australian Eight success­fully competing at the Christchurch Centenary Games. It was also whilst in New Zealand that Ernie won the heart of his wife, Jennifer, thus completing a memorable year of his lifetime.
Perhaps the highlight of Ernie's rowing career was his selection as a member of the Australian Olympic eight-oared crew which represented at the Helsinki Games in 1952.
In addition to his interstate and international fame Ernie stroked the winning N.S.W. Champion Fours in 1953 and 1954.
Retiring from competitive rowing Ernie took up coaching. In this capacity he was successful with a winning crew at the Champion Junior Eights in 1955.
Fortunately we are not losing Ernie to other interests as we have been assured that his objective is to devote his spare time exclusively to coaching.
As from this outstanding record of achievements and the general support given by Ernie Chapman to his Club we unhesitatingly suggest the honour conferred is truly deserved.
Chapman was awarded an OAM in 1989 for his services to rowing. He was an excellent administrator and coach of the sport. He was a coach at both Sydney Rowing Club and Newington College.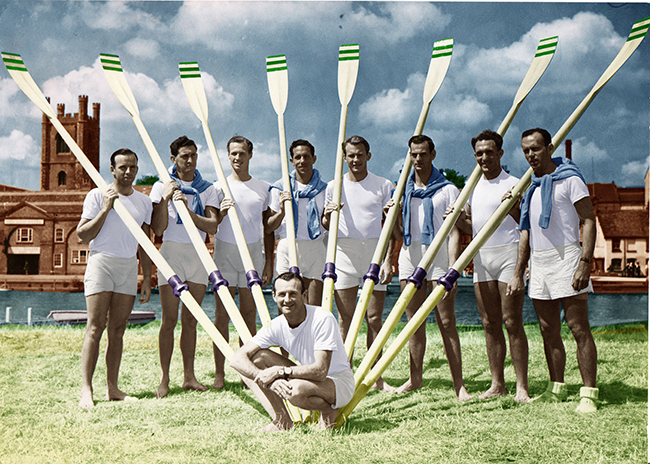 1952 Olympic crew at Henley - Ernie second from the right
Andrew Guerin
May 2020