Alexander (Alick) Chamley
Albert Park Rowing Club, then Yarra Yarra Rowing Club in 1890, then back to Albert Park Rowing Club in 1895-6 season (VIC)
was a remarkable oarsman winning over 100 regatta races and 10 Interstate championships from 10 starts. His first in 1886 and his last in 1905 aged 42. He was generally regarded as one of the best bow side oarsman in Australia at a golden time for Victorian rowing. At that time, the colony had great rowers such as Chamley, Alex Sloan and the Donald brothers.
Upon his death in 1921, "Rudder" in The Weekly Times wrote:
OARSMAN'S FINE RECORD
By "Rudder"
Mr Alex. Chamley, who died recently, was one of the best known figures in Victorian rowing circles. He was one of the men who played a prominent part in bringing Victorian rowing to the high position it held for so many years, as proved by the long run of successes gained by our crews in the interstate contests.
Chamley rowed in no fewer than nine of these races in 1886, 1887, 1888, 1894, 1897, 1889, 1901, 1903 and 1905, and Victoria was successful on each occasion. The race in 1905 was rowed on the Parramatta river, and Victoria gained the verdict by a narrow margin from Tasmania after one of the most desperate races ever witnessed on that historic course. The Victorian crew on that occasion was steered by Mr J. M. Macfarlane, who considers that the main credit for Victoria's win was due to Chamley's rowing. So much does Mr Macfarlane think of the way in which Chamley backed up his stroke (Jim Donald) that he is inclined to describe it as the greatest race of Chamley's career. Chamley was distressed at the end of the race, and when leaving the landing stage he stumbled against a post and fractured one of the bones of his arm. It was thought that he would not be able to race again, but later in the same year he rowed No. 3 in the Albert Park crew, which won the championship fours of Victoria. That was one of his last appearances in public. Chamley had a wonderful record of successes in regatta and championship races, and was the first oarsman to place to his credit more than 100 victories in those events.
His first win was at the Melbourne Regatta in 1883, when he rowed No. 5 in the successful Albert Park maiden eight. In the same crew was S. H. Gowdie, who afterwards won a prominent place in Victorian rowing. Gowdie stroked the crew which won the first Victorian championship eight in 1889, and had Chamley as his No. 7. In the following year Chamley transferred to the Yarra Yarra Club, which was then in the hey-day of its success, and he signalised the change of clubs by rowing No. 3 to E. R. Ainley in the crew which won the championship fours in 1890. From then onwards for a number of years he was associated with the success of the Yarra crews. In 1898 he returned to the Albert Park Club, whose ranks had been strengthened by the brothers Jim and Charlie Donald, who had won their way to the front as members of a noted Wendouree eight. From 1898 until the time of his retirement. Chamley was associated with the Donalds. What a splendid backbone these three men made for the Albert Park senior crews year after year. To their efforts was largely due the fine record of that club in senior and championship events for a considerable period. The following details of winning championship races alone, in which Chamley competed, are interesting as showing his value to the clubs whose crews he rowed in: —
Championship Eights— 1889, 1891, 1892, 1893, 1895 (with Yarra Yarra); 1900, 1903 (with Albert Park);
Champion Fours - 1890, 1891, 1892, 1893 (with Yarra Yarra); 1898-9, 1899-1900, 1902-3. 1903-4, 1904-5, 1905-6 (with Albert Park).
Championship Pairs — 1901-2, 1902-3, 1903-4 (Albert Park). In these pair-oared races he was stroked by C. Donald.
Chamley's personality was one which made him well liked by clubmates and he was of a quiet, unassuming disposition, modest in success and a good loser. To the younger oarsmen he was always ready to lend a helping hand. For some years before his death his health prevented his taking any active part in rowing.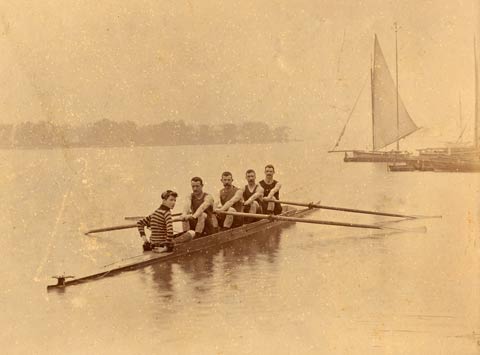 1899-00 Victorian Champion Four from Albert Park - Alick Chamley in the 3 seat
Intercolonial/Interstate Championships
1886 - Intercolonial Men's Eight Championship five seat - First
1887 - Intercolonial Men's Eight Championship five seat - First
1888 April - Intercolonial Men's Eight Championship seven seat - First
1888 November - Intercolonial Men's Eight Championship seven seat - First
1894 - Intercolonial Men's Eight Championship seven seat - First
1897 - Intercolonial Men's Eight Championship five seat - First
1899 - Intercolonial Men's Eight Championship seven seat - First
1901 - Interstate Men's Eight Championship five seat - First
1903 - Interstate Men's Eight Championship seven seat - First
1905 - Interstate Men's Eight Championship seven seat - First
Andrew Guerin 2010 (updated Feb 2022)
Sources:
Rowing (1921, September 24).

Weekly Times (Melbourne, Vic. : 1869 - 1954)

, p. 90. Retrieved February 27, 2022, from http://nla.gov.au/nla.news-article224456805

The Victorian Oarsman by John Lang, published by Massina and Co 1919
James Skidmore and Peter Gill
Author's own records