Arthur Chadwick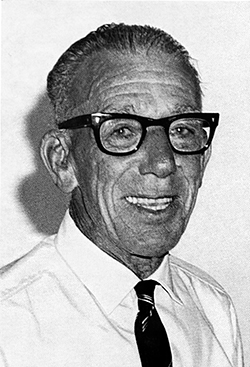 Sydney Rowing Club (NSW)
The following tribute was contained in the Sydney Rowing Club 1966-67 annual report. His death was reported in 1970-71 with much regret.
ARTHUR CHADWICK RETIRES
After many years of faithful service, Arthur Chadwick has retired from the service of the club.
Arthur first became associated with rowing in 1912 when he commenced coxing with the Western Suburbs Ladies' Rowing Club. In those days, he tells us, one of the most exciting races was the annual "run-a-mile, walk-a-mile and row-a-mile" contest. This was a real test of stamina.
Arthur became caretaker of the club in 1942 and coxed many Sydney crews. He went to the Henley-on-Yarra regattas with club crews in 1947 and 1951. In 1954, he became a full-time employee of the club.
In his 25 years with the club, Arthur has become well known to hundreds of members, to visitors and to oarsmen from clubs all over Australia and from other countries. He has a remarkable memory for faces and names and a warm welcome and greeting has always been available from "Chaddy".
Arthur will remain with us, acting again as caretaker, and, with a little more time to spare these days, he has already re-commenced coxing and coaching crews. We thank him for his past loyalty and efforts and wish him and his wife, Plassy, a long and happy retirement.
Extracted by Andrew Guerin
December 2020