Philip A Cayzer OAM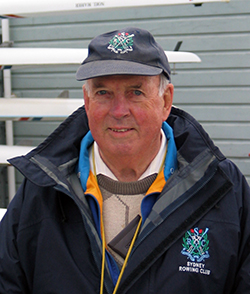 Sydney Rowing Club (NSW) and Mercantile Rowing Club (VIC)
1947 – Interstate Men's Eight Championship emergency
1949 – Interstate Men's Eight Championship two seat – First
1950 – Interstate Men's Eight Championship stroke – First
1950 – British Empire Games – Men's Eight two seat - Gold
1951 – Interstate Men's Eight Championship stroke – First
1951 – NZ Championships Men's Eight stroke – First
1951 – Christchurch Games – Men's Eight stroke – First (vs NZ and the then top US crew from California University)
1952 - Olympic Games - Men's Eight stroke – Bronze
1952 – Henley Royal – Grand Challenge - Second
1952 – Interstate Men's Eight Championship stroke – second
1954 – Interstate Men's Eight Championship NSW stroke – Second
1958 – Interstate Men's Eight Championship NSW coach – Third
1959 – Interstate Men's Eight Championship NSW co-coach – First
1962 – Interstate Men's Eight Championship NSW coach – Fourth
1964 - Olympic Games - Men's Coxed Four coach – Tenth
1964 – Interstate Men's Eight Championship NSW coach – Second
1969 – Interstate Men's Eight Championship NSW coach – Second
1970 – Interstate Men's Eight Championship NSW coach – Fourth
1972 – Interstate Men's Eight Championship VIC co-coach - Third
1983 - Elected life member of Sydney Rowing Club
1985 - World Championships - Men's Eight coach – Ninth
1986 – Interstate Men's Youth Eight Championship NSW coach - Fourth
1987 – Wilkinson Cup NSW
1994 – Nations Cup – Men's Lightweight Four coach - Fourth
1994 – Trans Tasman Under 23 – Men's Lightweight Four coach
1996 – Interstate Men's Lightweight Four Championship coach – Sixth
2000 – Interstate Men's Lightweight Four Championship coach - Fourth
The following obituary was written by Andrew Guerin at the time of his death.
Phillip A Cayzer OAM, 1922-2015. Leader, mentor, Olympic rower and coach. Philip Cayzer passed away peacefully on 15th July 2015.
Phil attended St Joseph's College Sydney before studying industrial chemistry. He held senior executive roles in industry.
Phil's senior rowing was all undertaken at Sydney Rowing Club which he joined in 1947. He maintained a lifelong association with that Club and was an honorary life member.
The rowing career of Phil Cayzer was stellar. He was rowing at a time of great strength in NSW and so was not immediately break into the successful NSW King's Cup crews. However by 1949 he was in the two seat of the winning crew and then stroked the winning 1950 and 1951 crews.
As a result of the 1949 win in the Kings Cup, the crew was selected to represent Australia in the 1950 Empire Games at Lake Karapiro in New Zealand. They won and defeated New Zealand by just a foot.
The 1950 win in the Kings Cup resulted in another opportunity to represent Australia with the NSW crew travelling to the Canterbury Centennial Games and 1951 New Zealand Championships. They defeated the highly acclaimed University of California crew by a canvas in both races. Defeating this renowned Californian crew was critical in persuading the Australian Olympic Federation to select an eight for the 1952 Olympic Games. The full Australian Olympic team in 1952 only comprised 96 people.
The 1951 NSW crew stroked by Phil won the King's Cup by 1.5 lengths. This was the selection event for the 1952 Olympic eight and NSW were duly selected. However this meant that the crew had to race the 1952 King's Cup for NSW during its preparation. The crew was comprehensively beaten by Victoria by four lengths with some sections of the media, but not other rowers, claiming that Victoria should be nominated in their stead. The NSW crew were far from their best having suffered severely from adverse reactions from the vaccinations for overseas travel. Phil had lost 20 pounds in three days and he was only one of five affected. It was also mentioned that their substantial fundraising responsibilities, some 7,000 pounds, impacted their preparation. Selector Joe Gould had faith in the crew and stood by his decision. To the credit of the crew and Gould, the eight won a bronze medal.
It is interesting to note that no coaches were selected in 1952. Reports from those involved noted that the crew suffered from this lack of coaching support. The bronze medal won by the men's eight at Helsinki was the best performance to that date by an Australian sweep-oared crew at an Olympic Games. This crew also raced at Henley Royal Regatta finishing second behind Leander in the final of the Grand Challenge Cup.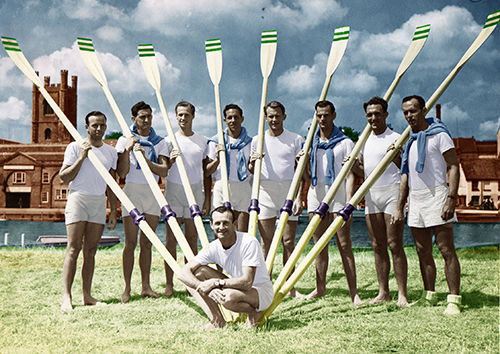 1952 Olympic eight with Phil on far left
After being sidelined for the 1953 season due to a serious car accident which left him in hospital for three months, Phil returned to stroke the Sydney Rowing Club crew to win the 1954 Champion Eights of NSW and stroke the NSW Kings Cup. The crew was placed second to Victoria in almost unrowable conditions in Hobart.
Phil then turned his energies to coaching which he did with distinction. During 1960s, Phil performed excellent coaching and recruiting work at Sydney Rowing Club which led to success for Australia at the international level. He coached the coxed four of Alan Grover, Alf Duval, Mick Allan, John Campbell and Gary Herford who competed at the Tokyo Games in 1964. He recruited a number of national senior rowers to join his squad at Sydney to create the men's eight for the 1968 Olympics. Unfortunately for Phil, overseas work commitments forced his withdrawal from coaching this crew after the NSW Championships. Fortunately he was still able to assist Alan Callaway with much of the coaching of the crew both in Australia and in Mexico.
During the seventies, Phil moved to Victoria for work reasons and coached Mercantile Rowing Club and Victorian crews. His relationship with Mercantile during this period was recognized in 2000 by the creation of an annual competition between the two clubs known as the Cayzer Cup. This competition continues as a mark of the great friendship and respect held for Phil.
Upon returning to Sydney Rowing Club in the eighties, he continued to coach Club, state and national crews through to recent years, developing many successful athletes. He also assisted the Club in senior administrative roles where his business skills and sage advice were used to great effect. Sydney Rowing Club has named a total of four boats after Phil Cayzer and one after his wife, Melva Cayzer to recognize their significant contribution to the Club.
Phil Cayzer received an Order of Australia Medal in 1992 for his lifetime service to rowing.
Phil's contribution to the development of a large number of Australian rowers is significant. He continuously coached, mentored, assisted and even employed some rowers from 1955 to recent times. He enjoyed seeing young people succeed. Those who he coached regarded Phil as a friend.
Andrew Guerin
16th July 2015