Patrick Carter I
Civil Service Rowing Club (VIC)
(Patrick Ignatius Carter)
1871 - Melbourne Regatta, maiden gig, stroke - First
1871 - Melbourne Regatta, maiden pair, stroke - First
1871 - Australian University Championships, men's four, three seat - First
1872 - Melbourne Regatta, junior fours, two seat - First
1872 - Intercolonial race at the Balmain Regatta, Victoria, stroke - Third
1873 – Intercolonial Sculling Championships – First
1874 - Melbourne Regatta, senior four, stroke - First
1874 – Victorian Sculling Championships – First
1875 – Victorian Sculling Championships – First
1875 - Melbourne Regatta, senior eight, stroke - First
1875 - Moama Regatta, senior four, stroke - First
1876 - Melbourne Regatta, senior four, stroke - First
1876 - Geelong and Barwon Regatta, senior eight, stroke - first
1878 - Melbourne Regatta, senior four, stroke - First
He was described as a short powerful man, a fair oarsman but a good sculler. He won the Challenge Sculls at the Melbourne Regatta for two years.
He stroked the winning eight in the first eight oared race for amateurs in Australia in 1875.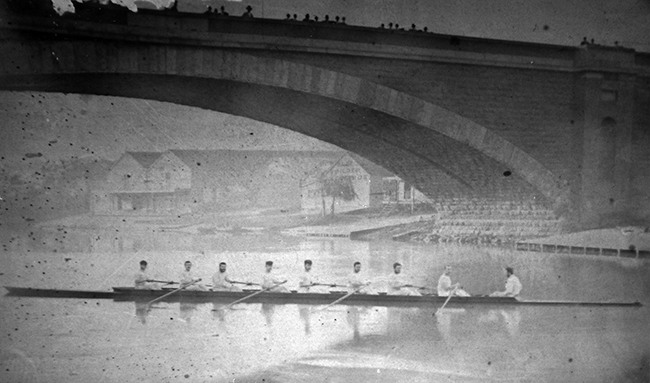 1875 first eights race in Australia. The winning crew above stroked by Patrick Carter.
Andrew Guerin
January 2021