John P Carr
Mercantile Rowing Club (VIC)
John Patrick Carr 28-10-1919 to 20-05-2005
John "Thumbscrew" Carr was a celebrated member of the Mercantile Rowing Club throughout his life. Whilst he will not be remembered for his rowing prowess, he will be remembered for his larger than life personality and mischief.
He was a strong thread in the a fabric of the Club.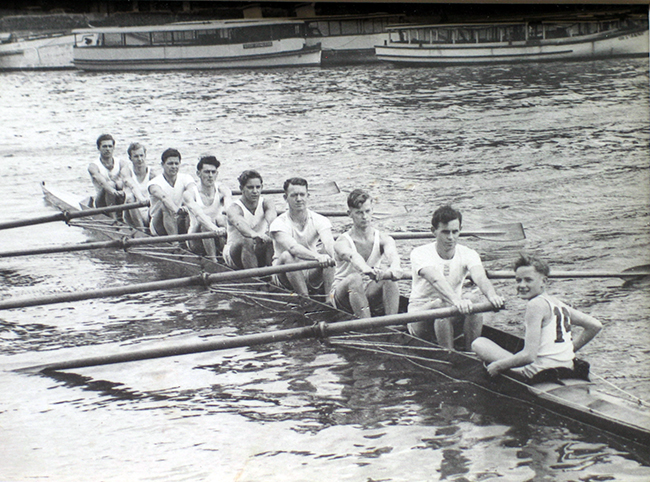 1948 winning Mercantile maiden eight - John Carr in the two seat
His friends put together the following words to try and convey the frivolity and fun he created in the Clubhouse and also some insights into the man everyone knew as Thumbscrew.
J. P. "Thumbscrew" Carr
Commander in Chief of the "Cock Robins' – D (Drink) Force
Jack joined the club as a junior member in 1948 after serving in the RAAF in WWII as a sergeant in charge of records, firstly in Darwin then the south west Pacific.
That year was the beginning of a new golden era in the Club's history and Jack rowed in maiden, junior and open events with success.
He acquired his nickname in 1949 by losing a thumbscrew during a row to Hawthorn and back thus upsetting the crew stroked by another prominent 'Cock Robin' – J (Jimpy) D Shears.
During this period he was also one of the Mercs boys in the early days of the Anglesea Surf Life Saving Club where the late Herbie Shears was a president.
By the mid 1950's he retired from competitive rowing and became very active in the 'off water' events of the Club in which he excelled. Dinners, dances, barbeques and parties were at his mercy and the South West corner on a Sunday morning was his favourite recreation.
Jack married Joan in 1966 and their daughter Lisa was born in 1968, but this did not slow him down at all.
In the early 1960's there was a group of 15-20 'retired' oarsmen known as the 'Exclusive Brethren ' who continued to row twice a week – Wednesdays and Sundays. Jack did not row very often in this group and several years later they became known as the Mercantile 'Cock Robins' and he began to organize and participate in 'R & R' activities as often as possible – as long as adequate amber 'ammunition' was available. These functions were supported with enthusiasm and in due course he was elevated to the rank of General J. P. "Thumbscrew" Carr – Commander in Charge of "D" (drink) Force Brigade.
The highlight of the years various exercises was always their wassail ' warm up' prior to the Club's AGM, where the Force was always at full strength – members would fly in from the U.S., New Zealand and interstate, such was the enthusiasm for this annual bivouac and not to be missed.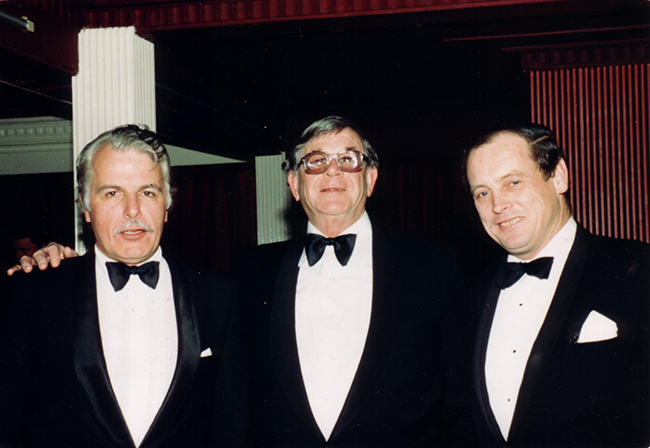 Tony Cordell, John Carr and Paul Harding at the Mercantile centenary dinner in 1980
Upon arrival at the AGM – fortified and with the taste, the Commander in Chief and others would engage in oratorical jousting with the powerful conservatives, namely President J ( Jubilation ) G Sprigg and associates.
The ensuing excellence of the rapid fire interjections, responses and repartee never failed to fire up the enthusiastic gathering of 100 plus members – at 20% of whom were 'Cock Robins".
These annual riotous assemblies and novelty acts entertained the members for about 20 years until the late 1980's when an upstart platoon of untrained, undisciplined raw recruits attempted to emulate the Cock Robins many successes. Their action failed miserably and the chaos that followed was such that the bureaucracy could not cope with the situation at all. Thereafter it was decreed that future AGM's would commence at 6.30pm Problem solved – but it also precluded the 'Cock Robins' from having their necessary ' warm up' as a lead up to this traditional 'night of nights each year.
Thumbsrew and "D" Force were in disarray and the Cock Robins never fully recovered from that bureaucratic decision. It was the end of a colourful era in Mercantile's history. No words can adequately convey the ambience of those incredible evenings and those of us privileged to have attended can never forget them.
Sadly, for the last thirty years of his life Jack experienced many health problems. In the late 1970's he had an artificial knee installed in his right leg which was not successful and was removed the following year leaving him with a stiff leg. Several years later he needed a shoulder reconstruction which was never of adequate strength and it began to disintegrate in the last five years. About 1990 he entered hospital for a triple by pass operation after which he had another appropriate nickname bestowed upon him – "Repco' (of spare parts fame).
Again in about 1999, he entered hospital for successful lumbar surgery but two days later was in the I.C.U. and nearly died of massive infections. Jack was a tough old Mercantilian but was unable to survive his last hospitalization in May at the age of 85.
A loyal Mercantilian to the end – he will be sadly missed by us all.
Complied by – Lieutenant Paul (Chow) HARDING – Communications Officer 'D' Force
With assistance from : Tony (Cordite) Cordell, Ron (Thrasher) Richardson and Jack (Jimpy) Shears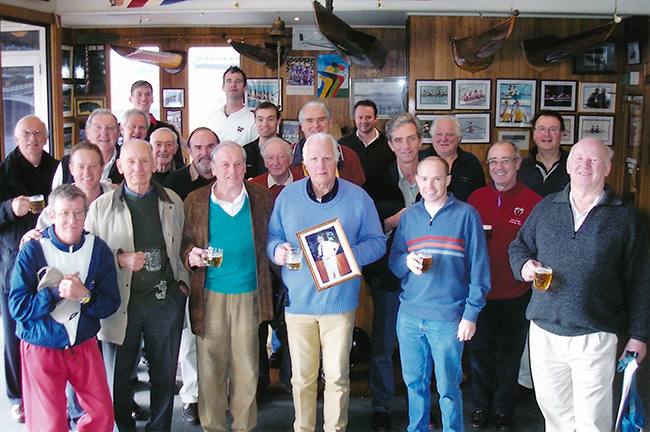 A select group of Mercantile member have a drink for John in 2005
Compiled by Andrew Guerin, 2005