Thomas S Carlyon
Echuca East Rowing Club (VIC)
1896 - Victorian Championship Scull - First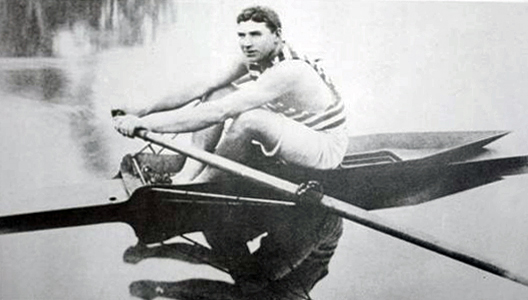 After his rowing days, Tom presented some challenge cups to the sport. The Barwon Regatta received the Tom Carlyon Cup for maiden eights in 1910 and it was won outright by Essendon Rowing Club in 1915. The Ballarat Regatta received the T S Carlyon Cup for senior eights in 1908 and it was won outright by Albert Park Rowing Club in 1911. Both trophies are on display in these respective clubs.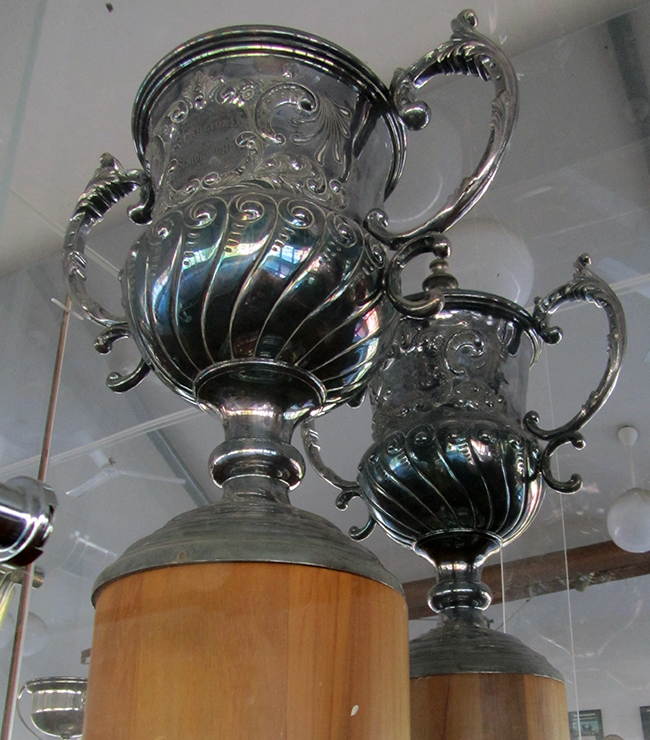 The T S Carlyon Cup for senior eights on display at Albert Park South Melbourne Rowing Club
Tom Symington Carlyon Senior produced a son of the same name who also had a good rowing pedigree. T S Carlyon Junior, born 1902, was a member of the winning Geelong Grammar School eight of 1920.
T S Carlyon Senior was an innovative and successful Victorian businessman.
The following extract is taken from an article of Tom Egerton in "Bartender" of 1st March 2019 and amongst many other things, provides an explanation to Carlyon Senior's Murray River origins.
Tom Symington Carlyon Jnr was born in Ballarat in the 1902, son of a former steamboat captain turned hotelier. His father, Thomas Carlyon Snr., had given up his post ferrying goods and stock up and down the Murray River in exchange for a life on solid ground, where he put his mind to reviving run-down hotels. It wasn't long before there were a chain of Carlyon hotels across Melbourne and Victoria, the grandest of all being the Carlyon's Esplanade hotel in St Kilda, today known just as the Esplanade Hotel, or the "Espy" to locals.
Not content with delivering hospitality matched by his local peers, Tom Carlyon Senior would often travel to Europe and America to research the most modern practices of luxuries and hospitality to bring back to Australia. While he was on one of his frequent research trips, Tom Carlyon Junior would step in to manage his father's hotels at the tender age of 25, with a local paper describing him in 1927 as "directing an enterprise that calls for courage, honesty and money, he finds himself no stilted novice, but a veteran before his time."
With his keen mind for business and with hospitality blood flowing in his veins, it should come as no surprise that he struck out to carve his own path, travelling to Philadelphia to study the modern science of hotel management at the Bellevue-Stratford, the grandest hotel in the world in its time.
Upon his return to Australia, he converted an ailing circus grounds into the Green Mill, a Dutch-themed dance hall with a capacity of 3000 people, decorated with ferns and a working windmill, where hostesses wore green costumes & clogs and revellers danced to Gershwin and big-band music under a twinkling sky of artificial stars beside an indoor lake known as the Zuyder Zee.
His mastery of the art of hospitality made him a minor local celebrity in Melbourne, and a local magazine profile of him at the time highlighted his abilities as a proprietor:
"…It is a science. It involves personality, arithmetic, the fine arts, knowledge of all the developments in the rapid & economical preparation of beautiful foods for extra velours stomachs, the capacity to soothe the ruffled Chryslers of humanity who have suddenly exhibited baby Austin temperaments, and a thousand other considerations. Tom Carlyon went through it with great success."
While popular, the Green Mill was a casualty of the great depression, and Carlyon was forced to give up his stake in the business. In 1925 Tom Carlyon Snr had passed away suddenly, and it appears the younger Carlyon decided to leave his native Victoria behind and head north to the (at the time) booming hotel trade in Sydney to try his fortunes there.
Today only echoes of all these people and place remain. Of Thomas Carlyon Senior and his hotel chain in Melbourne only a faint reminder remains in the T.S Carlyon cup run each February at Caulfield in Melbourne.
The Green Mill in Melbourne changed hands many times until it was finally gutted by a fire and demolished; it is now the grounds of the Melbourne Arts Centre. Despite all its fineries and all its battles Usher's Metropolitan Hotel couldn't defeat the march of progress — it ceased serving July 1st 1961, and the Sydney Morning Herald reported the barman as saying that "it was just like any other night except tomorrow we'll be reporting to another hotel."
Today the old shell of Usher's is the Bulgari diamond store opposite from the back entrance to Establishment. Sadly, there's nothing there except the old bones of the hotel, with the facade long since stripped and lost to time.
T.S. Carlyon Junior didn't warrant an obituary in the papers himself, but softly faded off into obscurity, leaving behind Australia's first American/European-inspired cocktail bar and bespoke drinks program. Perhaps he was a man before his time, and if he had been alive 40 years after he would have been a trailblazer in his industry and an icon of Australian bartending. As it stands, for now he is forgotten. Hopefully this article can do something to change that.
Andrew Guerin and Carlyon descendant and rower, George Low,
January 2021