Sally A Capp AO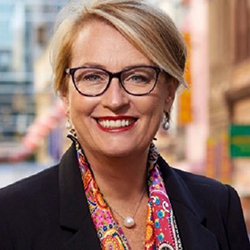 Victoria
Sally served as a director of Rowing Australia from 2013 to 2017. Whilst not a rower herself, she was asked to join to supplement the skills of the Board wither her diverse and extensive commercial and professional sporting experience.
In 2023 King's birthday honours list, she was appointed as an Officer of the Order of Australia for distinguished service to the people of Melbourne, to local government, to business, and to the community through various organisations.
Her service was recorded as follows.
City of Melbourne (CoM)
Lord Mayor of Melbourne, since 2018.
Chairperson (and CoM Representative), Queen Victoria Market Committee of Trustees.
Honorary Vice-President (and CoM Representative), Australia-Britain Society (Victoria).
CoM Representative, C40 Cities Climate Leadership Group.
Statutory appointment, Melbourne Art Trust.
Trustee (and CoM Representative), Shrine of Remembrance.
Chief Executive Officer, Employment Matters Committee.
Lord Mayor's Charitable Foundation
Honorary Patron, current.
Chair, Board Nominations Committee, current.
Council of Capital City Lord Mayors
Chair, current.
City of Melbourne Representative Member, current.
Spokesperson on Homelessness, since 2019.
Local Government - Other
Member, Local Government Ministerial Advisory Panel.
Chair, M9 collaboration of inner nine metropolitan councils.
Member (and CoM Representative), Metropolitan Transport Forum.
Patronages
Patron, Royal Victorian Association of Honorary Justices, current.
Patron, Royal Humane Society of Victoria, current.
Patron, Royal Women's Hospital Foundation, current.
Other Appointments
Advisory Council Member, The Global Foundation, since 2013.
Board Member, Mary Jane Lewis Scholarship Foundation, since 2013.
Board Member, Olivia Newton-John Cancer Research Institute, current.
Mentor, Pathways to Politics Program for Women.
Non-Executive Director, Victorian Tourism Industry Council, 2013-2015.
The University of Melbourne
Non-Executive Director, Business and Economics Board, Faculty of Business and Economics, since 2014.
Chair, Melbourne Foundation for Business and Economics, current.
Sport
Non-Executive Director, Rowing Australia, since 2013.
Board Member, Collingwood Football Club, 2004-2009.
Board Member, Sport Australia Hall of Fame, 2014-2023.
Community
Honorary Member, Rotary Club of Melbourne.
Professional - Other
Victorian Executive Director, Property Council of Australia, 2016-2018.
Chief Operations Officer, Victorian Chamber of Commerce and Industry, 2015-2016.
Head of Markets Victoria, KPMG, 2013-2015.
Agent-General for Victoria, United Kingdom, Europe and Israel, 2009-2012.
Chief Executive Officer, Committee for Melbourne, 2007-2009.
Senior Executive, ANZ, 2003-2007.
Managing Director, Australian Heritage Group, 1999-2003.
Solicitor/Senior Associate, Herbert Smith Freehills, 1996-1999.
Awards and Recognition include:
McKinnon Emerging Political Leader of the Year, 2019.
Honorary Doctorate, RMIT, 2019
Andrew Guerin
June 2023
Sources: