Benjamin Canham
Mercantile Rowing Club (VIC)
2015 - APS Head of the River six seat - Third
2015 - Victorian Championships Men's B Four and Men's School four - First
2017 - Victorian Championships Under 21 Eight - First
2017 - Victorian Championships Under 21 Pair - First
2017 - National Championships Under 21 Pair - Fourth
2017 – Interstate Men's Youth Eight Championship seven seat – Second
2017 – Trans-Tasman Regatta #1 U21 Men's Coxless Pair bow – Second
2017 – Trans-Tasman Regatta #1 U21 Men's Coxless Four bow – First
2017 – Trans-Tasman Regatta #1 U21 Men's Eight five seat – First
2017 – Trans-Tasman Regatta #2 U21 Men's Coxless Pair bow – Second
2017 – Trans-Tasman Regatta #2 U21 Men's Coxless Four bow – First
2017 – Trans-Tasman Regatta #2 U21 Men's Eight five seat – Second
2018 - Victorian Championships Men's under 23 Pair - First
2018 - National Championships Men's Under 23 Pair - Third
2018 - National Championships Men's Under 23 Eight - Second
2019 - National Championships Men's Under 23 Pair - Third
2019 - National Championships Men's Under 23 Four - Fourth
2019 - National Championships Men's Under 23 Eight - Third
2019 – U23 World Championships U23 Men's Coxed Four three seat – Gold
Domestic racing at Ballarat in 2017 - Ben in the stroke seat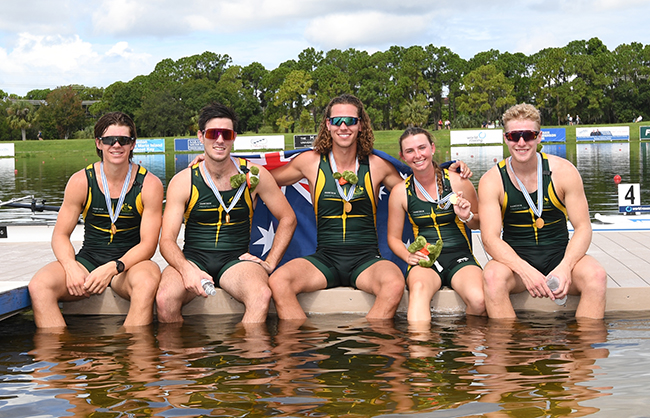 Ben in the centre celebrating his World Under 23 Championship gold medal in 2019 with his crew mates
Ben started his rowing at Brighton Grammar School. He finished his school racing racing in the first crew which finished third in 2015.
He joined Mercantile and has had a great deal of success. He finished in 2019 with a gold in the Under 23 World Championships in a coxed four.
2020 was a disappointing season for all rowers with the pandemic causing the Australian Championships to be cancelled. At the time of creation of these notes, he is now setting his sights on greater achievements.
Andrew Guerin, June 2020
Sources:
Photos - Andrew Guerin and Rowing Australia
This website