Carl (Charles) Burmeister
Mercantile Rowing Club (VIC)
B: 10 Jan 1891. D: 1971 aged 79.
Charles joined the club in 1920-21 season and maintained his membership until 1935. He was not a prolific racer as we can few reference to him racing. In 1924 he raced at the Upper Yarra Regatta in the maiden sculls. He won his heat but was outclassed in the final by the famous Billy Fawcett of Footscray. Fawcett was an excellent sweep oared rower and was obviously trying his hand at sculling that day.
The following information has been sourced from The Stanway and Burmeister History on 2nd December 2012.
Carl was born in South Yarra on 10 January 1891 and was a watchmakers' and jewellers' equipment wholesaler by trade, a business started by his father Leopold Ludwig Burmeister in about 1860, and hence was a family business for over one hundred years. He moved to Perth as a young child and his two daughters, Mollie and Helene, were born there but by 1919 at least he was living in Melbourne again. The family lived at Fosbery Avenue, Caulfield from at least 1925 to 1930. He married Eleanor Beatrice Millard in 1915 in Perth. Carl also owned a monkey, which he took with him on holidays to Ocean Grove.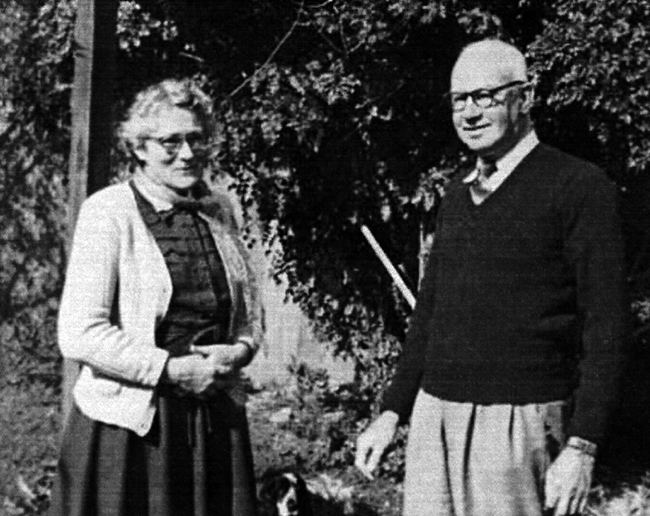 Ellen and Carl Burmeister in their garden in June 1955
Andrew Guerin
January 2021