Daniel Brophy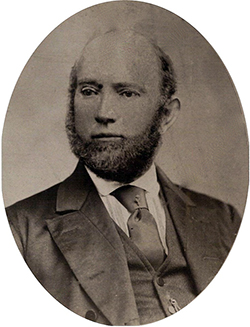 Ballarat City Rowing Club (VIC)
13 Nov 1832 - 10 May 1895
Life patron
Treasurer-1870-1885
President-1886-1891
Daniel was described in later life as tall, loose limbed and sandy. He was a man of great standing in the community and contributed greatly to the building and growth of Ballarat in his work as a miner, hotelier and staunch Catholic.
He was born on November 13th 1832 at Castlecomber, Kilkenny, Ireland. He was the youngest son of a farmer William Brophy and wife Margaret (nee Purcell). He was educated at local schools including one run by the Society of Friends the Quakers. He was a young boy during the devastating potato Famine of 1845. As a result of the famine he and his family were forced to flee in 1847.They sailed on the 'Abbotsford' to Quebec in Canada. His mother died en route, as did many of the other passengers. Of the 350 people who left the shores of Ireland only 95 survived the journey. One of them was young Dan - age just 15. At this tender age he was more or less left to his own resources and took up working in a shipyard. Later he moved to New York and worked for a relative in the grocery trade.
News of the Australian gold rushes reached America Dan, like so many others, left to seek his fortune. He arrived in Melbourne aboard the Torrens in March 1853.He initially went to Sandhurst walking there from Melbourne with his companions Dr. McMahon, Mr. Cause (a Canadian barrister), Mr. H. Cumberford (son of a wealthy Galway shipowner) and Mr. J. Blake. They took employment in quarry, as there was a drought on and worked for about a month. He moved to Taradale where he and his friends were credited with discovering the first payable gold on that field. By 1855 he moved to Ballarat where he worked as a practical miner on behalf of himself and his party. He was next employed as the first sluice man to wash gold at the United Band of Hope Company Mine. Displaying shrewd business acumen he became an investor. He continued to be both lucky and very successful as a mining magnate. He was one of the originators of the celebrated Band of Hope Consortium, which by 1888 had yielded some 3 million pounds.
He married in 1859 Ellen Mary Berkery. She had been married before and had several children. They had ten children. In 1864 he purchased land at Bungaree and also commenced keeping the Atlantic Hotel in Skipton Street. In 1866 he moved to the British Hotel at the Corner of Doveton and Sturt Street. He renamed it Brophy's hotel and it became one of the prominent hotels of the time. It was also the venue for the first meeting of the Ballarat City Rowing Club and the main venue for committee meetings for many years. Brophy was a very successful businessman, generous and community minded. He served on many boards and committees and gave generously of his time and money.
He was president of the Ballarat Hospital and on the board of the Orphan Asylum. He served as mayor of the City of Ballarat in 1875 and was a councillor until 1883. He was variously involved in the Ballarat cricket club, Old Colonists Association, and Ballarat Agricultural society, Ballarat Miners and Bungaree Turf Clubs and the Hibernian Society. A staunch catholic, the Pope awarded him the Knighthood of the Order of St. Gregory in a visit to Rome in 1880. He lived a full and fantastic life dying on May 10th 1895 aged a mere 63.His obituary simply read;
We've lost our genial, kindly Dan,
And to replace him,
Where's the man?
Kate Elliott
September 2021