Edward R Bromley
Mosman Rowing Club/Sydney Rowing Club (NSW)
1932 – Interstate Men's Eight Championship - Second
1933 - Interstate Men's Eight Championship three seat - First
1934 - Interstate Men's Eight Championship three seat - First
1935 - Interstate Men's Eight Championship five seat - First
1936 - Interstate Men's Eight Championship seven seat - First
1938 – British Empire Games Men's Eight five seat – Silver
1939 – Henley Royal
1948 - Olympic Games – Men's Coxless Pair stroke - eliminated in semi-final
1948 – Henley Royal – Men's Double Scull Finalist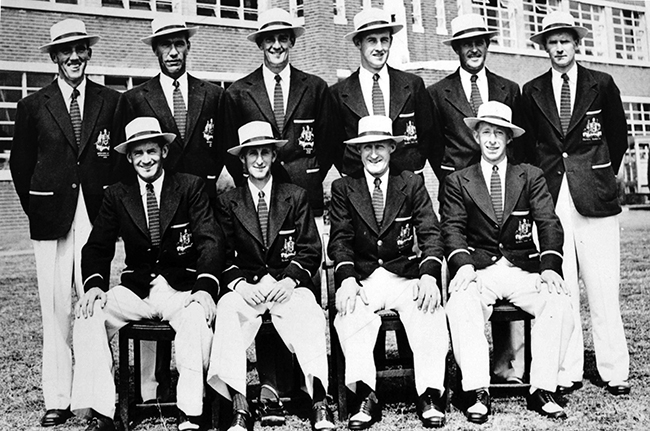 1948 Olympic rowing team - Ted is standing on the left hand side
Ted was an excellent rower who was a pioneer of serious pair oared rowing in Australia.
Ted has a deep interest in the sport of rowing and has attended regattas both domestically and overseas throughout his life. He has also been a fine benefactor to the sport with the creation of Bromley Foundations for both the New South Wales Rowing Association and Rowing Australia which endows representative crews. He is a highly respected member of the sport.
In a letter to the trustees of the Rowing Australia Bromley Foundation, (and in the interests of transparency you correspondent is one of these trustees), he outlined some of this history as follows:
In 1938 the British Empire Games were held in Sydney and the rowing events took place on the Nepean River at Penrith. There was no pair-oared race. I was interested to learn that two members of the New Zealand Eight had rowed in the 1932 Olympic Games at Los Angeles in the coxless pair event and had won the bronze medal. I had discussions with them about that class of rowing and I observed them closely during their outings on the water. It seemed to me that while they were good oarsmen they were not obviously superior to their Australian counterparts and there should be Olympic prospects for Australia at the forthcoming 1940 Helsinki Olympics.
Some weeks later, I had a discussion with my friend John Burrell with whom I had enjoyed several years of successful rowing. We agreed that we would get together and try ourselves out in a pair-oared boat and if we found we could move the boat well, we would train together with a view for selection for the 1940 Games. George Towns and Sons were given an order for the pair and two oars at a cost of £98.
The boat was delivered towards the end of 1938 and by that time our plans had been overtaken by events. Burrell and I were in the crew which, selected by the NSW Rowing Association but rowing as Sydney Rowing Club, went to Henley and competed in "The Grand". The Henley Regatta gave me the opportunity to examine pair-oared boats and to see them on the water. I noted that the pair that won comfortably was some 13kg per man lighter than the powerful second pair. The message was that skill is a vital factor in that class of rowing.
Before we had arrived back in Australia our Helsinki 1940 plans had again been overtaken by events and it was quickly clear that the start of World War II meant there would be no 1940 Olympics.
It had been announced that the next Olympics would be held in 1948 in London and Spencer Grace, who had been a member of our 1939 Henley crew, suggested that we should start rowing together in the pair and try for selection. (John Burrell's right arm had been injured in the war during the defence of Tobruk and he was not available.)
By early 1948 our pair was the only one rowing in NSW, and, as far as I am aware, there was no other coxless pair in use in Australia. We were selected in the Olympic Team with the proviso that we should first compete in the Henley Regatta and reach the final of the pair-oared race (the last two) which we did.
…[British coach Derek Ivors-Smith] taught us a lot about pair-oared rowing. …He required us to "brighten up"…... Our bodies had to remain almost perpendicular, the hands had to be struck away smartly after the finish. Nearly all the work was with the legs.
Before long we had the opportunity of trying out our new style at the Marlow Regatta (ten days before Henley). In the first heat we were drawn against Laurie and Wilson of Leander who were the nominated British Olympic pair and later winners of the Olympic gold medal. We got away very smartly rating well over forty strokes to the minute and did not drop below about thirty eight. We won the race by over two lengths. Later we won the final against Thames Rowing Club by three and a half lengths. At the Henley Regatta we won our first two races "easily" and joined Laurie and Wilson in the final.
Lawrie and Wilson in 1948 Games
Due to injury to Grace the Australian finished second at Henley and their Olympic efforts were also upset with injury, changing styles and lack of experience in pair oared rowing. Ted Bromley continues –
I returned to Australia convinced that Australia should adopt a policy of giving a high, or even top, priority to the development of pair-oared rowing in preference to the past practice of first selecting an eight and two spare men ("they can row in the pair") when the Olympics came along every four years and paying no attention to the fact that such selections did not take into account the possibility that amongst those ten men there might have been two capable of winning a gold medal as a pair.
It was heartening to see that after 1948 pair-oared boats started to proliferate and by 1950 about a dozen presented themselves for a test race for selection in the Commonwealth Games in New Zealand.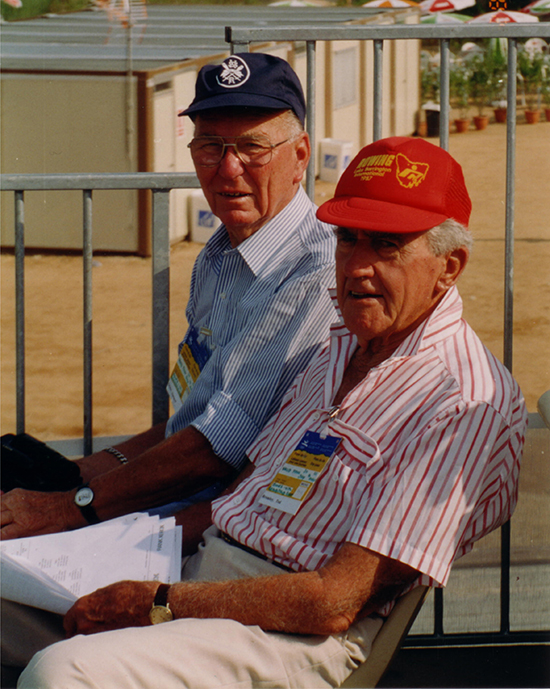 Spencer Grace and Ted Bromley watching the Olympic rowing in 1992 at Banyoles
Andrew Guerin
May 2020