MAJ Eric T Brind
Wendouree Rowing Club (VIC)
Eric Brind was born in Ballarat on the 21st of March, 1884. His parents were Henry Brind and Carol Ann Thomas. He attended Melbourne University and became a distiller. He was a member of Wendouree Rowing Club for ten years from 1905 until 1915 when he enlisted on the 20th of February 1915 in the 23rd Infantry Battallion.
The Australian War Memorial website records: "...Major Eric Thomas Brind, 23rd Battalion from Ballarat, Victoria. A 31 year old distiller prior to being appointed a Lieutenant on 24 March 1915 and promoted to Captain on 1 May 1916, he embarked for overseas with the Headquarters Staff from Melbourne on 10 May 1915 aboard HMAT Euripides (A14). After serving at Gallipoli, he went on to serve in France where he was promoted to Major on 27 May 1916. He was Mentioned in Despatches for conspicuous good work as Company Commander since arriving in France. Maj Brind was reported missing in action at Pozieres on 28 July 1916 and is commemorated on the Australian National Memorial at Villers-Bretonneux, France with others who have no known grave..."
Eric Brind is also commemorated on the Honour Board at the Ballarat Masonic Centre, 616 Barkly Street, Golden Point, Ballarat North - Victoria, Australia.
The following has been provided from the History of Ballarat Regatta 1862-2002 by Kate Elliott.
The family of the late Major Eric Brind, who had been a member of the Wendouree Club and was killed in action in France, presented a cup in his honour that was raced for the second time at this regatta. There were nine crews entered for the event with the winner of the race being Corio Bay. (Ballarat Regatta, March 4th, 1922)
Major Eric Brind was killed in action at Pozieres on the 28th of July, 1918 in World War 1. His brothers Lloyd and Frank Brind donated the cup to the Ballarat Rowing Association to be raced for each year in his honour. The Brind Cup pictured below is in the possession of Wendouree/ Ballarat Rowing Club.
The picture below is reproduced from the 1948 Ballarat Regatta program.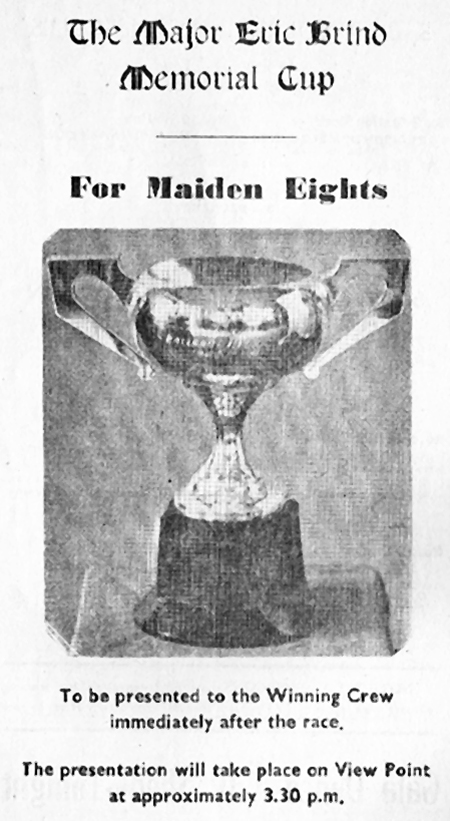 The Brind Cup was competed for until 1999 when there was no longer an eights race on the regatta program.
Major Brind's photograph and memorial plaque hang in the Wendouree/ Ballarat boatshed.
Rowing record
1904 - Nagambie Regatta, Maiden Eight, three seat - First
1905 - Nagambie Regatta, Junior Pair, bow - First
1905 - Nagambie Regatta, Senior Pair, bow - First
1905 - Barwon Regatta, Maiden four, two seat - First
1905 - Ballarat Regatta, Junior eight, bow - First
1905 - Ballarat Regatta, Maiden Four two seat - First
1905 - Henley Regatta, Junior four, two seat - First
1908-1914 - Secretary Wendouree Rowing Club
1911 - Interstate Championships, Men's Eight for the King's Cup, bow - Second
1912 - Army Challenge Cup, stroke of the winning eight, 70th Infantry, Ballarat.
Kate Elliott
May 2022
Sources:
History of Ballarat Regatta 1862-2002 by Kate Elliott

Australian War Memorial website www.awm.gov.au
The Victorian Oarsman by John Lang published by Massina & Co 1919
Kate Elliott collection