Joshua Booth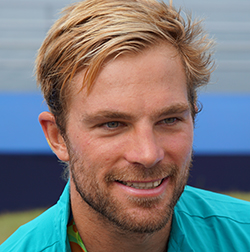 Melbourne University Boat Club (VIC)
2006 – National Championships U17 Coxed Quad Scull stroke – First
2008 – National Championships Schoolboy's Eight five seat – First
2010 – National Championships U23 Men's Coxless Pair bow – First
2010 – Interstate Men's Youth Eight Championship seven seat – First
2010 – U23 World Championships U23 Men's Eight five seat – Ninth
2010 – World Championships Men's Coxless Four bow – Seventh
2011 – National Championships U23 Men's Eight five seat – First
2011 – Interstate Men's Eight Championship five seat – Second
2011 – World Cup III Men's Eight five seat – Seventh
2011 – World Championships Men's Eight three seat – Fourth
2012 – Interstate Men's Eight Championship five seat – Second
2012 – World Cup II Men's Eight two seat – Sixth
2012 – World Cup III Men's Eight four seat – Second
2012 – Olympic Games Men's Eight six seat – Sixth
2013 – National Championships Open Men's Coxless Four three seat – First
2013 – Interstate Men's Eight Championship five seat – Second
2013 – World Cup I Men's Coxless Four three seat – First
2014 – Interstate Men's Eight Championship seven seat – Third
2014 – World Cup I Men's Eight seven seat – Fourth
2014 – World Cup I Men's Coxless Four stroke – Fifth
2015 – Interstate Men's Eight Championship stroke – First
2015 – World Cup III Men's Eight two seat – Fifth
2015 – World Championships Men's Eight stroke – Ninth
2016 – National Championships Open Men's Coxless Four three seat – First
2016 – National Championships Open Men's Coxless Pair bow – First
2016 – Interstate Men's Eight Championship stroke – First
2016 – World Cup II Men's Coxless Four three seat – Second
2016 – World Cup III Men's Coxless Four three seat – Third
2016 – Olympic Games Men's Coxless Four three seat – Silver
2017 – Interstate Men's Eight Championship stroke – Second
2018 – National Championships Open Men's Coxless Four three seat – First
2018 – National Championships Open Men's Coxless Pair stroke – First
2018 – Interstate Men's Eight Championship seven seat – Second
2018 – World Cup II Men's Eight seven seat – Second
2018 – World Cup III Men's Eight seven seat – Second
2018 – World Championships Men's Eight seven seat – Silver
2019 – National Championships Open Men's Coxless Pair bow – First
2019 – Interstate Men's Single Championship – Third
2019 – Interstate Men's Eight Championship five seat – Second
2019 – World Rowing Cup II Men's Coxless Pair bow – First
2019 – World Cup III Men's Eight five seat – Sixth
2019 – World Championships Men's Eight five seat – Fourth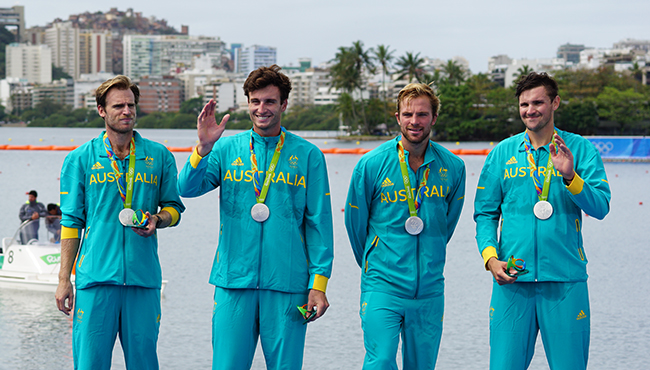 Josh taking silver in Rio
Josh is one of the most accomplished oarsmen in the land. Not only has he achieved so much on the water, he has managed the near impossible to finish his medical degree as well as pursue a PhD whilst rowing. His is a superb story of determination and diligence.
Rowing Australia's profile of Joshua extracted on the 28th May 2020 advised:
Josh Booth first appeared in the Australian Rowing Team in 2010 at Karapiro, New Zealand in the Men's Coxless Four alongside Fergus Pragnell, Bryn Coudraye and John Linke. Booth was later selected to compete for Australia in the London 2012 Olympic Games in the Men's Coxed Eight who finished sixth overall. The Victorian medical student appeared in World Rowing Cup 1 in both 2013 and 2014 but medical studies took over which meant he was unable to trial for future teams. Booth's ambitions to represent Australia have taken over though and the Melbourne-local has put his medical studies on hold for two years in a bid to represent Australia at an Olympic Games once again. In 2016, Booth was named in the Men's Four and went on to win an Olympic silver medal at the 2016 Rio Olympic Games. In 2017/18, Booth relocated to Canberra to join the Reinhold Batschi Men's NTC and was selected into the Men's Eight for the World Rowing Cups 2 and 3. He won a silver medal at the World Rowing Cup 3 in Lucerne and was selected to represent Australia in the same boat class at the World Rowing Championships in 2018. He was also part of the Australian Men's Eight that won the Grand Challenge Cup at the 2018 Henley Royal Regatta. The Victorian recently completed his medical studies.
Date – 28.05.20
Sources
https://rowingaustralia.com.au/athleteprofile/joshua-booth/
http://www.worldrowing.com/athletes/athlete/38425/results/booth-joshua
ra.rowingmanger.com