Roger P Blake ASM, AM
Reeconian Rowing Club (TAS) and Ulverstone Rowing Club (TAS)
Roger and his coach (and father) Bob Blake, were trail blazers of adaptive rowing in Australia: Roger as a rower and Bob as a coach and administrator. The annual points score trophy at the National Championships for para rowing is named appropriately the Blake Shield.
Roger competed at two World Championship regattas in adaptive rowing demonstration events. Sadly in both events, there was poor representation given the early stages of the sport. Roger was also a regular and successful competitor at National Rowing Championships.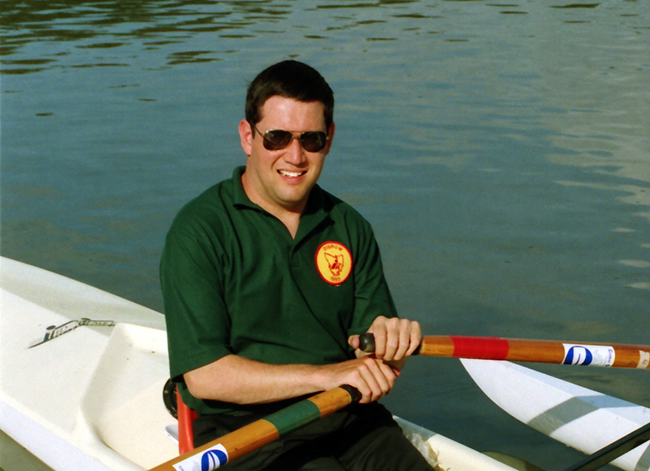 Roger at the 1993 National Championships in Queensland
In 2023, Roger was honoured with membership of the Order of Australia for this and other sporting activities.
His citation was for significant service to sport as a competitor, administrator and statistician. The details were as follows:
North West Basketball Union, Basketball Tasmania
Historian, since 2010.
Statistician, since 2013.
Devonport Warriors - Devonport Basketball Council Inc.
Score Bench Official, 1977.
Club Historian, since 2006.
Accredited Level 1 Coach, since 1984.
Assistant Coach, Devonport Representative Teams, 1985, 1987, 1990, 2011.
Administration Junior Commission, 1986-1988, 1992-1993.
Co-ordinator, Girl's Primary School Tournament, 1991.
Life Member, since 2011.
Awards, seven service, one merit.
Rowing Tasmania


Tasmanian Champion, Adaptive Rowing, 1996, 1997, 1998, 1999, and 2010.
Gold Medal, World Adaptive Rowing, Finland World Championships, 1995.
Silver Medal, World Adaptive Rowing, Czech Republic, 1993.
'Only disabled rower to win an Australian Title on every Australian Rowing Course.'
Member, Reeconian Rowing Club, Devonport, 1993-1999.
Member, Ulverstone Rowing Club, Ulverstone, 2009-2011.
Indoor Bowls
Former Competitor and Administrator.
Awards and Recognition include:
Merit Award, North West Basketball Union, 2018.
Life Member, Sportsman's Association of Australia, since 2013.
Arch Holliway Award, Senior Division, Devonport Basketball Council, 2009.
Participant Commonwealth Games Baton Relay, 2006.
Australian Sports Medal, 2000
Andrew Guerin
June 2023
Sources:
Author's own World Championship records
Governor General's website - media notes - King's Birthday 2023 Honours List | Governor-General of the Commonwealth of Australia (gg.gov.au) extracted 18th June 2023
Australian Rowing magazine September 1993