Arthur R Blackwood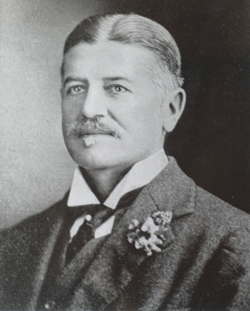 Mercantile Rowing Club (VIC)
12 January 1850 - 2nd February1905
1889-92 – Vice-President of Victorian Rowing Association
1903-05 – President Mercantile Rowing Club
1903 – Founder of the Melbourne Amateur Regatta Association with Sir George Fairbairn and Capt Rivett
Arthur Blackwood was a distinguished business and rowing leader in Australia. His contribution to Australian business and the sport of rowing was immense.
The establishment of the Henley on Yarra regatta was a magnificent achievement. From a new regatta to the largest regatta in Australia within a year and then at one stage, dwarfing it English counterpart, is still hard to fathom.
Arthur Blackwood was Mercantile Rowing Club's third President and due to his untimely death in 1905, served less than two seasons. He succeeded J. B. Whitty who had held office for a period of 20 years and it was with great regret that he was compelled to retire due to indifferent health. J. B. Whitty was a generous supporter of Mercantile in every respect and the loss of his services was severely felt.
Mercantile member 1903 with Arthur Blackwood in the center
Arthur was a different President from his predecessor. He was a great supporter of the sport, also a member of the Melbourne Rowing Club, a prominent figure in the Victorian Rowing Association and a founder of the Melbourne Amateur Regatta Association which ran the very successful Henley on Yarra Regatta.
Henley of Yarra finish in 1904, already a major regatta within a year of commencement
The obituary in the 1904-05 annual report notes:
It is with deepest regret that your Committee has to record the death of your President, Mr Arthur Blackwood, which took place after a short illness in February last. During the period that Mr Blackwood occupied the position of President, he showed how very deeply he had at heart the interests of rowing in general, and of your Club in particular, of which he has been a very liberal supporter. To Mr Blackwood is due the thanks of all rowing men for his initial efforts towards establishing the present Henley-on-Yarra Regatta, and his death has removed from the Club a vert ardent sportsman and a good friend.
From the Australian Dictionary of Biography:
Arthur Ranken Blackwood (1850-1905) was born on 12 January 1850 at Hobart Town, only son of James Blackwood and his wife Eliza, née Officer. He was educated at Melbourne Grammar School (1858-64), Harrow School (1865), and Balliol College, Oxford (B.A., 1873; M.A., 1888) and was called to the Bar of the Middle Temple in 1875. In Melbourne on 15 October 1885 he married May Cunningham; their only child died young. Admitted a partner in 1879 in the firm of Dalgety, Blackwood & Co., in 1884 he became joint managing director with James Aitken of Dalgety & Co. Ltd. He was first chairman of directors of B.H.P. in 1885, but resigned next April after disagreements with G. McCulloch. He was also director of the Silverton Tramway Co. Ltd and of several other companies. In 1889 he was appointed colonial superintendent of Dalgety & Co.; in 1900-05 he was a member of the company's local board of advice.
Andrew Guerin
2017