Arthur Blackwood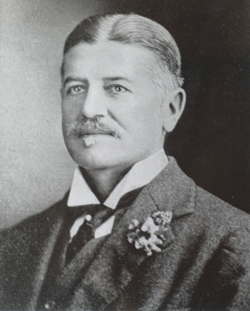 (1850-1905)
Melbourne Rowing Club (VIC) and Mercantile Rowing Club (VIC)
1889-92 - Vice-President of Victorian Rowing Association
1903-05 - President Mercantile Rowing Club
1903 - Founder of the Melbourne Amateur Regata Association with Sir George Fairbairn and Captain Rivett.
A distinguished businessman and profound contributor to the sport.
From the Australian Dictionary of Biography: Arthur Ranken Blackwood (1850-1905) was born on 12 January 1850 at Hobart Town, only son of James Blackwood and his wife Eliza, nГ©e Officer. He was educated at Melbourne Grammar School (1858-64), Harrow School (1865), and Balliol College, Oxford (B.A., 1873; M.A., 1888) and was called to the Bar of the Middle Temple in 1875. In Melbourne on 15 October 1885 he married May Cunningham; their only child died young. Admitted a partner in 1879 in the firm of Dalgety, Blackwood & Co., in 1884 he became joint managing director with James Aitken of Dalgety & Co. Ltd. He was first chairman of directors of B.H.P. in 1885, but resigned next April after disagreements with G. McCulloch. He was also director of the Silverton Tramway Co. Ltd and of several other companies. In 1889 he was appointed colonial superintendent of Dalgety & Co.; in 1900-05 he was a member of the company's local board of advice.
Andrew Guerin 2016