Keith A Bilney
Keith Alexander Bilney
Mercantile Rowing Club (VIC)
24 March 1913 – 24 September 1994
The following was written by his grandson Richard Wraith for the sport upon his death.
With the death of Keith Bilney, Mercantile and Victorian rowing lost one of their most unselfish quiet achievers who gave nearly 70 years of service to the sport.
Keith was first introduced to Mercantile as a coxswain by Ron Shannon during the 1926-27 season. During his coxing career he won Most Improved Coxswain and then twice won Champion Coxswain. He then moved on to rowing as a lightweight when the limit was 10 stone (63.5 kg) and was a member of the Mercantile crew that visited Sydney in 1937.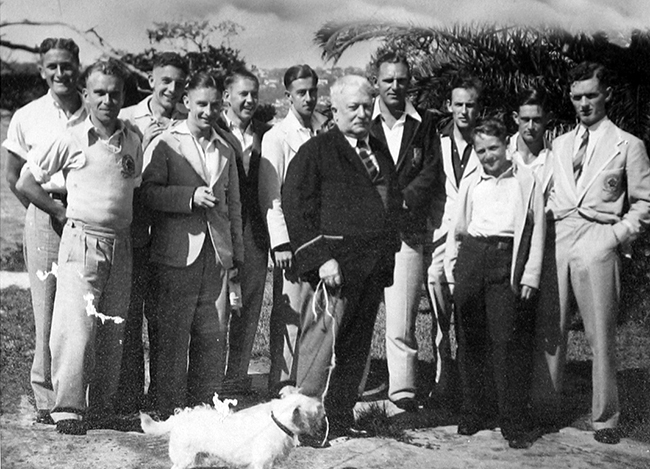 Above: 1937 Lightweight tour to Sydney – Keith second from the right
Following World War II, amongst other things, he won the Herald Shield for scullers and stroked the Mercantile Senior 4 at Henley in 1946. He retired from active rowing shortly after only to begin coaching maiden and Junior crews at Mercantile in 1950.
Above: Keith as winner of the Herald Shield
In 1961 he turned his hand to lightweight rowing and produced the Victorian Champion lightweight four that went on to represent Victoria for the Penrith Cup. The next year he again coached the Penrith cup crew that still holds the record for the largest winning margin. That crew later formed the nucleus of the first Australian Champion Lightweight eight.
He went on to coach more Victorian and Intervarsity crews but the highlight of his career was coaching the first Australian Awesome Foursome Coxless Four to the Olympic Games at Tokyo in 1964.
Above: 1964 Olympic Four, Keith in the inset photo
In 1965 Keith moved to coaching school crews at Melbourne High and then Carey in 1966. He helped establish rowing at Carey and ultimately coached crews at all levels from the boys and girls firsts down to the very beginners. He remained interested and involved in Carey rowing almost to his last days.
During the 80's and early 90's his passion for coaching was boosted by the involvement of four of his five grandsons in rowing. The Ryan boys in the USA, all of whom rowed for the USA at the Junior World Championships, and Richard Wraith for Wesley, Mercantile and Australia at Junior and Senior B level.
In his later years he could be seen toiling his way up and back along the bike track with his old tin megaphone in his hand encouraging his stable of enthusiastic scullers. In fact he rode over 25 km coaching, on his bike, a little more than a week before he died.
A memorial service was held in his honour on Sunday 9 October 1994 at Mercantile and a large crowd listened to moving speeches from David Boykett, Daryl Wraith his son in law, David Hume and Geoff Thomas from Carey and witnessed the spreading of his ashes on the grass and in the river in front of the club as he requested.
Coaching rowing was his great love and over the years he was more than happy to offer his services to anyone ·who asked. He ran coaching courses complete with slides and diagrams long before the level l and level 2 courses were ever thought of. He coached crews and scullers from at least 14 clubs and schools, one way or another, over his career. All this would not have been possible without the never ending support of his wife Bernice. The work she put in gave him the extraordinary amount of time needed to contribute so much to rowing. To honour his memory the Keith Bilney Memorial Trust Fund has been established to provide funds for coaching education and development at Mercantile and an annual trophy to be presented at the AGM to the coach who best exemplifies the qualities of the ideal coach at Mercantile.
Richard Wraith (as published in the Mercantile Rowing Club 1994-95 annual report)
The following article written by Keith and published Carey Boat Club newsletter dated 7 November 1988 provides an insight into his thoughts on rowing.
WHAT ROWING MEANS TO ME
After 61 years in rowing as a coxswain, oarsman, sculler, teacher and coach, rowing is almost a way of life for me that is very stimulating and satisfying. It has taught me many things; to extend myself physically and mentally, not only for personal achievement but for the good of the club or crew; to recognise and develop the hidden talents and skills. How to handle and get along with many types of men who row and blend them into a working unit. The friendships made in rowing are usually very long-lasting because of the time spent and the effort that is made together as a crew.
TEAM WORK: Rowing to me is the ultimate in team-work or togetherness. Anyone rowing in a crew must soon learn to work and cooperate with other people. No-one shows out as a champion as in football, cricket, tennis etc. The individual effort does not count to any great extent (personal satisfaction is achieved by rowing well in a good crew) it is the crew effort that counts. It is no use leaving it to the other fellow - he is probably leaving it to you - so nothing is achieved.
CHARACTER BUILDING: Anyone rowing soon learns that winning a race (as with things you want out of life) does not come easy. If you want it badly enough, you have to work and sometime suffer physical and mental pain to obtain what you want.
It often amazes me what men will take from a coach (provided they have confidence in him) in the mental and physical effort he demands from them. They come to realise that the human being has reserves he seldom if ever is called upon to use. This realisation is often carried through to every day life - hence the number of oarsmen who are the top of their professions. They also learn to take the wins with the losses - the good with the bad, and if you do not win the first time, have another go at it.
Rowing is very satisfying both physically and mentally due to the effort and concentration required. An oarsman has to be able to take criticism in the presence of the rest of the crew, act on it and not make excuses for what he is doing wrong. It makes him realise that his way is not the only way and if you do not listen , you will never learn.
As an oarsman there is a wonderful sense of achievement in rowing in a boat that is running fast and well, or as a coach watching the matchless effort and timing of a good crew at full pressure making it look easy and enjoying every stroke.
In the final assessment, the individual becomes a stronger person physically and mentally and is better equipped to take the rough with the smooth.
Keith Bilney in Nov 1988