Valmai Bertrand
Nestles Rowing Club (VIC) and Essendon Rowing Club (VIC)
1964 - Interstate Women's Four Championship bow - Third
1965 - Interstate Women's Four Championship bow - Second
1966 - Interstate Women's Four Championship bow - First Australian crew, awarded trophy
1968 - National Championship Senior Pair - First
1968 - National Championship Junior Scull - First
1969 - National Championship Senior Pair bow - First
1970 - Interstate Championships Women's Scull - Second
1970 - National Championship Women's Lightweight Scull - First
1970 - National Championship Women's Lightweight Pair - First
1971 - Interstate Women's Sculling Championship - First
1971 - National Championship Women's Lightweight Scull - First
1972 - Interstate Women's Sculling Championship - Second
1972 - National Championship Women's Lightweight Scull - First
1972 - National Championships Women's Open Four three seat - First
1972 - Interstate Women's Lightweight Four Championship three seat - First
1973 - Interstate Women's Sculling Championship - Second
1973 - National Championship Women's Lightweight Scull - Second
1973 - Inter Dominion Fours v New Zealand -Australia No 2 crew - Second
1974 - Interstate Women's Sculling Championship - Second
1974 - British Championship Women's Elite Scull - Third
1974 - British Championship Women's Elite Four - Silver
1974 - British International Women's Scull - Silver
1975 - Victorian selector
1979 - Australian selector
1982 - National Championship Women's Under 23 Coxed Four cox and coach - First
1987 - Awarded Medal of the Order of Australia for services to rowing and community
2000 - Awarded the Australian Sports Medal
2001 - Awarded the Centenary Medal
2003 - Great success at the World Masters in Ballarat with one gold, two silvers and a bronze
Various - Coached World Champion Tommy Bertrand in his formative years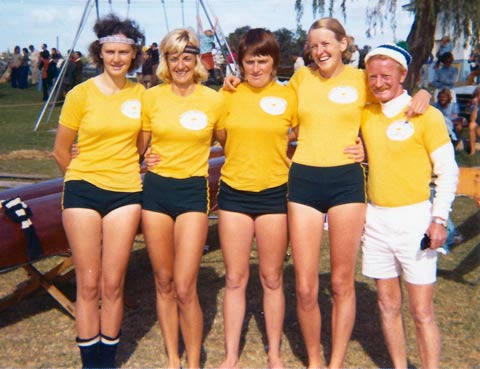 Val Bertrand (centre) in the Inter Dominion Australian Four in 1973
Val Bertrand has made an outstanding contribution to women's rowing in Victoria and in Warrnambool. Her rowing record is impressive, especially considering her size and being based outside Melbourne. Val was a school teacher at Warrnambool's Emmanuel College for many years and is now a sports administrator. She remains an active participant in several sports. A testament to her continuing good work is that a netball stadium in Warrnambool is named in her honour.
In March 1973 Val demonstrated her outstanding physical and mental endurance setting a new record for the Guinness Book of Records 100 mile single sculling record. She completed the distance in 21 hours 3 minutes. This was completed on her home turf on the Hopkins River Warrnambool. The after effects such as hands bereft of skin, caused considerable discomfort in that year in the Interstate Championships.
Her career finished in 1975 due to injury. However it was also apparent to her that due to her petite stature, she would have great difficulty competing successfully at the international level. She has held every administrative position in her club and remains an active coach and mentor. She has coached successfully at Victorian Championship and at the Head of the Schoolgirls including further Australian rowers such a Rebecca Watts.
Andrew Guerin 2013